Lumbar Facet syndrome



Lumbar facet syndrome is probably the most common cause of low back pain; it varies from mild discomfort to very severe and disabling stabs.
There are many terms in common usage relating to low back pain. However this syndrome is not one of them. We are all familiar with terms like slipped disk and sacroiliac joint sprain. However, it is even more likely that your back pain is coming from small joints in your lower back called facet joints.

The spine is really just a very tall column that gives structure to the whole body. Attached to it are the limbs, all the organs and, of course, it has a very heavy weight placed precariously at the top.
Your skull! Yes, you're very top heavy.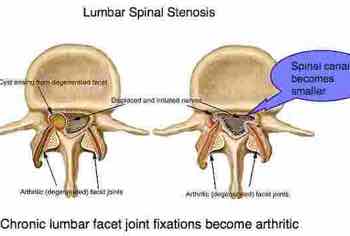 To prevent the spine from toppling over, or buckling and twisting too much, each spinal bone, called a vertebra, has two boney plates that extend backwards from the spine, and interlock in an ingenious manner with its neighbours above and below. A regular Chinese puzzle.
These bony plates, or facets, form joints all the way, top to bottom, in the spine, giving your flexibility, but with strength.
Obviously a short leg means that this tall column stands on an unlevel foundation. There is much research revealing how a Leg Length Inequality, or short leg, can cause scoliosis, back pain and arthritis. Take a little detour down this lane, meantime I'll be preparing more information about facets for you. Hit the backspace button to return to Chiropractic Help.com after reading about Leg length inequality.
Lumbar Facet syndrome
Lumbar facet syndrome is the name given to a myriad of symptoms often leading on to lower back and leg pain.
The spine also of course contains and surrounds the spinal cord which, together with the brain, is the most sensitive structure in the body. It lies within the spinal canal. Too much torsion or bending would stretch the cord excessively, thus damaging it. It is the facet joints that limit how far you can twist and turn.
What does a facet look like?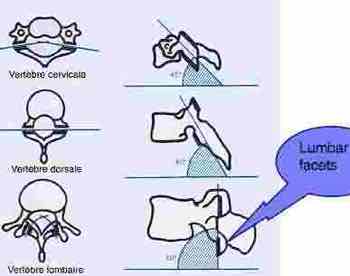 For those with an engineering bent, it is interesting to note that the facets in the neck, midback, and low back lie in quite different planes and at different angles, to give more or less motion as is required. But movement with stability. These facets were not designed by our Creator for weight bearing - that is the prime function of the disc - but slack belly muscles, obesity and pregnancy cause an increased curve in the low back. This curve, seen from the side, is quite normal, and is called the lordosis. When it is increased we call it a hyper-lordosis, or exaggerated lordosis.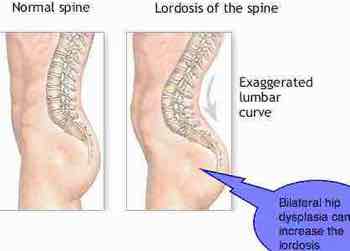 An exaggerated lordosis places extra weight on the facets, and ultimately the hyaline cartilage begins to degenerate. Changes in the shape and condition of the bone may then occur, and cysts may form, threatening the nerves running down the leg.
The joint cartilage has no direct blood supply of its own, relying on diffusion of nutrients and wastes via fluids that bathe the tissues.
Interesting research now proves that refreshment of these fluids is dependent on movement within the joint or, conversely, that spinal fixations and stagnation leads within 13 hours to the beginnings of cartilage degeneration.
For more about this immobilisation arthritis, the result of an unattended lumbar facet syndrome, check out the chiropractic subluxation page below.

Developmental hip dysplasia is a condition that may progress from an unusual presentation of the foetus in the womb. The socket is too small. If it occurs bilaterally, then an increased lumbar lordosis occurs.
Do you, or one of your children, have hip and groin pain, a very mobile clicking joint, and increased lumbar lordosis? Think of dysplasia. Normally it should be detected by the paediatrician at birth; treatment with a Pavlik harness is simple and effective.
Falls and other injuries also can damage the joint cartilage, causing the lumbar facet syndrome. The most common injury that we see in the practice, is hyper extension of the lower spine. Just take a look at this girl's back; can you see the pain on her face as the facets are ground violently into each other?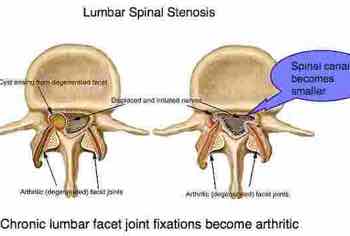 In particular note the cyst that has arisen from a degenerated facet joint, causing displaced and irritated nerves.

Whilst sometimes it may seem too dangerous to get out of bed in the morning, remember that most people die in bed! Life is for living, even if it leaves its scars.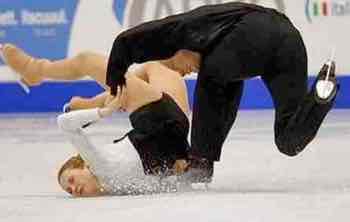 Sometimes the facets in a lumbar facet syndrome may wear to such an extent that it allows the vertebra above to slide forwards on that below. These facets are lined with a very hard and, when healthy, glistening white "hyaline cartilage". This cartilage has no blood supply and is totally dependent on certain physiological factors (like movement) for its continued health and ability to restore itself.
The alternative is degenerative arthritis, stiffness and pain. Read more about HYALINE CARTILAGE ... Now the spondylo threatens not only the nerve roots but also the cord; it's known as lumbar stenosis. A stable spondylolysthesis does not usually cause much pain, but it can cause much grief, particularly when associated with obesity. See how L4 has slid forward on L5? That's what we call a spondylolysthesis ... 
Lumbar stenosis casefile ...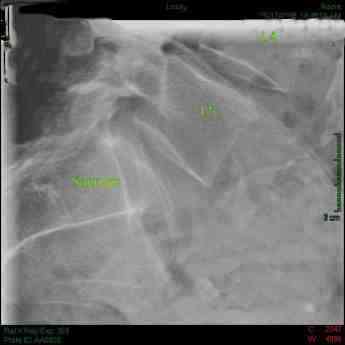 A protruberant gut too increases the lumbar lordosis, putting more pressure on the joints. The result is more wear and tear, the greater the likelihood of a nerve entrapment syndrome to go with your lumbar facet syndrome.Think about our easier weight loss program, remembering that research into all diets shows that 95% of people are no less heavy one year later. Treat dietary claims with suspicion. 

Notice how this girl's jaw has also taken a blow. This will cause a clicking and popping temporo mandibular joint which eventually will lead to severe facial pain and headache. For more information, see our TMJ anatomy page.
The lumbar facets, because of their proximity to the foramen where the spinal nerve exits, can cause pain and tingling in the legs and feet. So too can spondylolysthesis, disc injuries, piriformis syndrome and a host of others.

What does your chiropractor have to offer for such a lumbar facet syndrome injury? After such an sharp blow these joints will rapidly swell, just like a sprained ankle, but deep within your body so it's not visible. Pain, stiffness and sometimes pain down the leg is the result. Whilst no one suggests rushing off to your friendly DC every time you have a lower back pain, an acute injury like this is best attended to immediately.
The treatment is likely to involve ice, gentle exercises and mobilisation of the joints, vital if fixation and arthritis are not to form. She or he may also use traction and a number of other modalities.
Chiropractic help for sciatica pain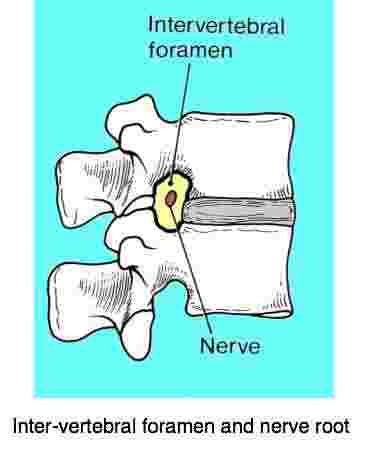 Chiropractic Help

As in ALL treatment there is a certain amount of risk involved. For more information about Iatrogenic Illness, or doctor-caused-disease, click here: IATROGENIC ILLNESS ...

Rehabilitation is vital once the symptoms of lumbar facet syndrome have subsided. If you have not yet signed up for our Chiropractic Tips - fill in your email address at the top left of this page and click on Subscribe - and you will get some simple exercises for the lumbar facet syndrome.The following exercises too are particularly useful for the small Multifidi muscles, considered essential for low back stability.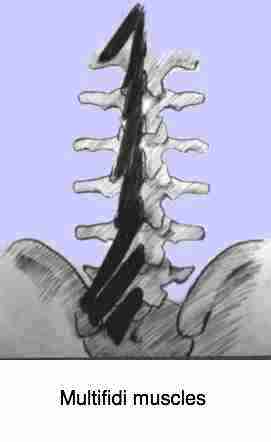 Good exercises for low back core stability. MAIGNES SYNDROME EXERCISES >>>
LOWER BACK EXERCISES
LOWER BACK EXERCISES ... videos


INFERTILE?
It still has be proved that a lumbar facet syndrome can cause nerve pressure, interfering with organ, such as the ovaries, function.
Remember too that the problem can lie with the male: a low sperm count. Recent reseach done in the Netherlands found that male fertility was reduced by a massive five times if he was using two more deodorants, after-shave lotions etc.
Every chiropractor can regale you with stories of how he or she has got a patient pregnant. For more about infertility and chiropractic, Infertility Chiropractic ...

Inspirational Stories
Read about Connie who it seems has more faith in chiropractic than her chiropractor! After twenty years of chronic low back pain she has stuck it out, and is now enjoying the fruit of her tenacity and determination to get better. Updated regularly. Read more … INSPIRATIONAL STORIES ...

Lumbar degenerative disc casefile

Degenerative joint disease can also be called "arthritis". It is arthritis. Often then there is the assumption that there's nothing to be done. Consider for example this degenerative lumbar disc disease casefile in which an elderly lady has had two total hip replacements and three extremely degenerate lumbar discs.
She could no longer walk and was told: you have arthritis, unfortunately you just have to learn to live with the pain and disability. Nothing, in her cause could be further from the truth... this is her X-ray: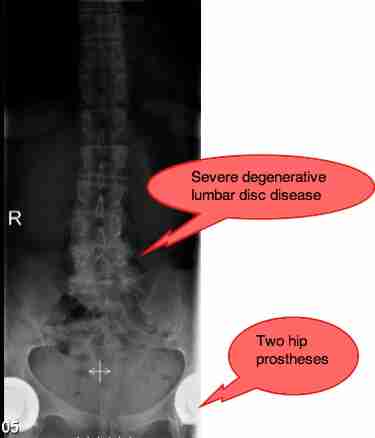 She responded astonishingly well to gentle Chiropractic Help ...

Lower back and leg pain

There's a massive spike in lower back and leg pain in Western society. The lumbar facet syndrome is just one of many causes.

Because of the increased natural curve in the lumbar spine (called a "lordosis" during pregnancy, there is more pressure on the facet joints. Whilst this usually causes just pain in the lower back, radiating pain down the sciatic nerve is not that uncommon either in pregnancy.
It makes a lot of sense as soon as you know you are pregnant to start these very simple basic exercises every morning before getting out of bed.
Sciatica without back pain

The ultimate challenge for any chiropractor is femoral nerve or sciatica without back pain. I've had it myself, so I know. Formerly it was considered a job for the surgeon, but this is not always the case. But usually it's difficult and some degree of weakness in the back remains.
The patient needs to come under a maintenance care program because setbacks periodically are almost inevitable.
Having said that, last weekend I robbed my bees, and that's hard work, and building compost piles is a weekly business for me; that too is hard physical work.

IMPORTANT CONSIDERATIONS
Why subluxations in the spine are one of the most common causes of facet " IMMOBILISATION ARTHRITIS "

Easy to make PESTO in a short story.

Have A Question about your lower back?
I receive many questions about Chiropractic. It might be help with a spinal condition, but it might also be from a person who can't walk after a hip operation, or some such thing.

I will do that by answering your questions personally, but it will be converted to a Web Page so others can benefit from your questions. Omit your name if you like.

However, do understand that, in the main, I'm going to be directing you, should it be pertinent, to a Chiropractor in your neck of the woods. I'll respond to all reasonable inquiries, but please be specific, and give as much detail as you can.

Do understand that lower back pain is extremely complex, so I can only give general guidelines. There's no substitute for a careful thorough chiropractic examination.


What Other Visitors Have Said
Click below to see contributions from other visitors.

If you find my answer useful, please ask friends to grade it.

A FAMILY AFFAIR
My fourth book explores an alternative lifestyle, not to everyone's liking. Meet Santie and Janet... is it possible for a man to raped by a woman? A Family Affair is disturbing, yet light reading. If rape can be light... Are you in my target audience?
Target audience A FAMILY AFFAIR ...

Klein-Jan ...  a sample chapter.
Only 99c on Amazon...
Why so cheap? As a writer you can aim at a million sales at 99c, or 10,000 at $5.99. For your benefit, mine too, I've chosen one million sales. 99c? Nothing to lose! Download it now onto your tablet, Kindle or smartphone...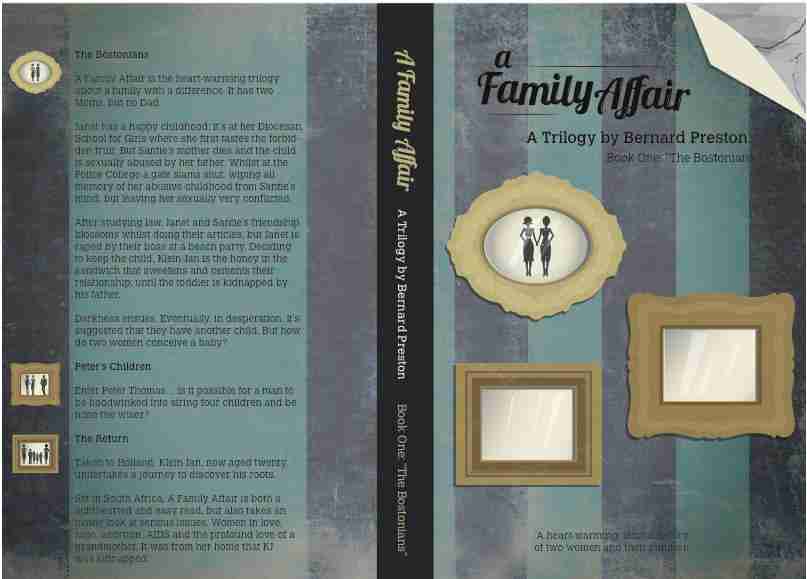 Did you find this page useful? Then perhaps forward it to a suffering friend. Better still, Tweet or Face Book it.