Backpain

Many of us have experienced backpain that is serious enough to require a doctor visit at some time or another. Additionally it is also a leading cause of disability worldwide, and furthermore with the backdrop of the opioid crisis an effective and safe treatment for spinal conditions is sorely needed.

1. MID-SPINE
This is a very general word, caused by hundreds of different chiropractic conditions. Most of them originate in the spine, the rib joints or muscles but a referred ache from the organs does occur occasionally.
A stomach ulcer can give you discomfort between the shoulder blades; so can a tumour in the pancreas. That is rare fortunately, being 100 percent fatal, even if diagnosed early which it only occasionally is. Steven Jobs, the Apple-Mac man, had access to the very best treatment and still succumbed.
There is incidentally an increased prevalence of pancreatic tumours in those going onto the so-called carnivore diet.

The upper part is a particularly troublesome area, being a transitional zone between the cervical and thoracic spine. It is subject to deep upper back-pain that may radiate to the arm.

Because the term back-pain is so general, click on the links to the relevant part of the spine.
The mid-back is called the thoracic spine.
The name comes from thorax which is that part between the neck and the diaphragm, the large muscle separating the chest from the abdomen.
The thoracic spine has twelve bones, and a myriad of joints and muscles relating to the ribs. Each of them makes three connections with the back and one with the sternum, where so-called costosternal chest pain occurs.
There are twelve pairs of ribs; do you get it?
12 vertebrae x 2 ribs x 3 joints in the back, plus one in the front with the sternum, which gives one hundred, give or take a few. Yes, you do get it; pain.
Discomfort in the breastbone is known as costosternal chest pain. Overly robust midback adjustments can cause it; usually it would be classified as after chiropractic treatment irritation which should last no more than a day or two perhaps, but very occasionally may be severe. 

This page was last updated by Dr Barrie Lewis on 9th February, 2023.
Midback and rib pain treatment
There are few things more discomforting than a sprung rib, causing very severe mid-back pain, often after a sneeze. Every breath becomes a nightmare; it feels like someone is stabbing you with a rusty screwdriver.
The treatment of rib pain is something that chiropractors specialise in.

Rib pain treatment CaseFile gives a typical scenario.

Scheuermann's disease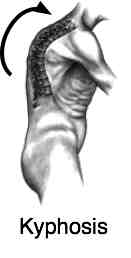 Scheuermanns disease is a not uncommon condition causing back pain, and affecting about 5 percent of teenagers.
Sadly parents have often been told it is growing pains, a condition which does not exist in my opinion, and by the time they get to us, it is already chronic; then a permanent spinal deformity is inevitable.
Like all conditions, from diabetes and hypertension to Scheuermann's disease it comes in very mild to severe stages; catch it early.

This need not be so. As with adults, any discomfort that your child experiences which does not of itself go away should be investigated. When it comes to backpain too, prevention is better than a cure.
Interestingly researchers have shown that people with Scheuermann's disease have a much higher incidence of conditions of the stomach.
This is because the stomach, which is really just a specialised muscle, is innervated in part from the mid thoracics, where the condition is usually found.
Are you suffering from indigestion and related heartburn? Part of the solution may be found in a probiotic like kefir that will overwhelm any pathogens like Helicoobacter by their sheer numbers.

The remedy gelatine powder has proved to give enormous help to everything from ulcers to the cartilage in conditions such as Scheuermann's disease. Make your own at home; it is so easy.
2. LOWER MID-BACK: THORACO-LUMBAR REGION.

Maigne's Syndrome
The junction between the very stable thoracic spine (owing to the ribs) and the highly mobile lumbar vertebrae is a vulnerable area often causing back pain that may spread into the buttock and side of the leg, giving the appearance of a sciatica.

This is also the area incidentally where kidney stones can cause severe pain.  
These Maigne's syndrome exercise feature prominently for a long term good prognosis.
Here is a typical Maigne's Syndrome Case file.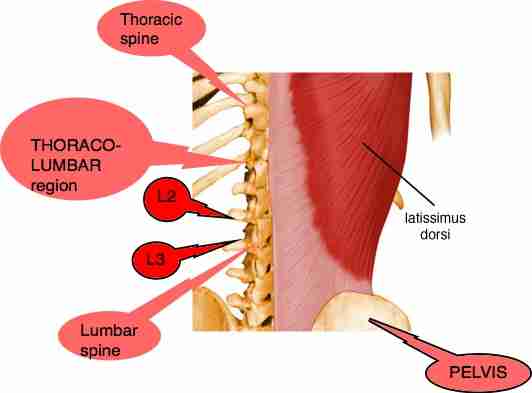 3. THE LOWER BACK and Tomato Prostate ...
The lower-back or lumbar spine stretches from the diaphragm to the pelvis, and consists of five bones. This is where most serious backpain comes from.
Low back pain used to be called lumbago, but we do not use the word any more. It is too vague. It can be caused by anything from a slipped disc, to arthritis or a tumour so forget the word.
Referred pain can also occur; for example menstrual cramps often refer to the back.
Every man must, it is compulsory, eat a tomato a day. Whilst metastatic disease in the spine and pelvis is relatively uncommon in comparison with all the other causes of back pain, prostate cancer is still the most common terminal tumour in men.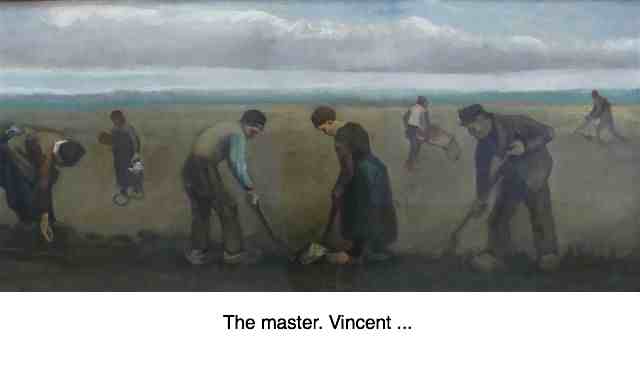 In Vincent van Gogh's days probably nobody knew about back exercises, but today every worker should do a few exercises before venturing out.
They are so synonymous that in Holland they use the same word for gardening and acute backpain (spit).
If you sign up for Chiropractic Tips (they are free), you will get a simple set of basic back exercises.

Slipped disk and a SLIPPED DISC SYMPTOMS Case File

The so-called slipped disc, a broad layman's term for a very complex syndrome, is a condition that Chiropractic excels in. The trick is to prevent a Grade I from progressing to a Grade 4.
If you suffer from low back pain, then you ought to know about the FOUR grades of slipped disc.
Lumbar facet syndrome
Small joints in the spine are probably the most common cause of LBP; the lumbar facet syndrome, characterised by backpain when bending into extension and to the side.

Spondylolysthesis and a casefile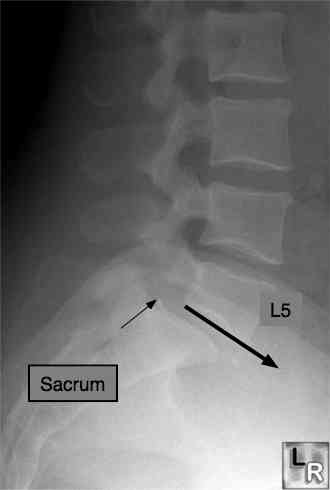 Good chiropractic is all about, in part, a find understanding of anatomy, and particularly that pertaining to the joints of the body. Henry Gray was the first doctor who systemised the subject.
Gray's Anatomy still stands as a tribute to this giant redwood in the forests of doctors.

This is one cause of chronic low back pain. It may be caused either by a stress fracture (usually in early childhood) or by degenerative change in the older person. These abnormalities allow one vertebra to slide forwards over the one below it. This can also trap the nerves travelling to the legs causing pain and weakness in the lower limbs.
Read more about the Chiropractic management of spondylolysthesis. It is not at all uncommon; a stress fracture in the low back.

Leg pain with NO low back pain
There is an unusual condition called Intermittent claudication that causes discomfort in the leg, with exercise, with no LBP; LEG PAIN caused by an artery blocked with cigarette ash.
Chiropractic help

Chiropractic help is a very large website covering many aspects of backpain, as well as other parts of the body such as the lumbar facet syndrome; or the slumped, aching teenager who may be suffering from Scheuermann's disease.
There are today, at the time of writing 436 pages; finding your way around can be a nightmare. Use the site search function in the navigation bar at the top left if you are hunting for something.
At the bottom of this page you will find a section where you can pose questions about your health.

FROM THE CHIROPRACTIC COALFACE
Mrs S taught me a new Dutch word. I have "ontiegelijke pijn." I had no idea what the word meant, but I grasped her meaning; totally unbearable. And, she had had it for two long miserable years.
At 83 she had been told by numerous doctors that she had arthritis, and at her age simply had to live with the pain. Little do some physicians know.
Bending over backwards caused severe pain, so she walked like she had a carrot up, to put it crudely, you know where.
In chiropractic terms, Mrs S had what is described as lower back and leg pain.

Her various doctors had refused to take x-rays of her low back, and so I really did not know just how severe the wear and tear in her lumbar spine was. Quite advanced I expect. Thank goodness it was not cancer.
The long and the short of it is that Mrs S has about 60% less back pain (after about two months of treatment) and she can now walk upright, like the good God-fearing woman she is.
Is she cured? Certainly not, chiropractic help cannot totally fix back pain, and she will have to wait for heaven for the new spine that brings no tears. She now comes in once every three weeks, and we are both well pleased. The carrot is out, and the two-year of "ontiegelijke pijn" is of the past.
She has a good understanding of what I call the 50 percent less pain rule; the dangerous time.
She is doing my exercise program faithfully, and knows that digging in the garden, and even vacuuming her home, is a thing of the past. Luckily Mr S is in good spirits.
4. THE PELVIS and SacroIliac joint anatomy
The pelvis , a ring of three large bones below the lumbar spine, is also a source of low back pain. A very common source actually. For more information about this condition, click here, SACROILIAC JOINT ANATOMY.

Financial burden of LOW BACK PAIN
Low back pain is causing an enormous financial burden on society, a burden that is rapidly increasing, despite so-called progress.
Oscar Wilde was the first to promote the idea that the great problem with progress may be that it goes forwards rather than backwards.
Medical "progress", yes and perhaps even chiropractic I hear you saying, may in fact be adding to that burden.
MAINTENANCE CARE

For chronic back pain, like other such conditions such as diabetes, high blood pressure and hypothroidism there is unfortunately no substitute for maintenance care.

And faithfully done lower back exercises are a vital part of that maintenance care. A minute and half every morning before getting out of bed (and better evenings too) is all they take.
There is lots of research showing that the joint cartilage will not heal without a proper supply of oxygen. The best medication, surgery and chiropractic in the world will not succeed in treating back pain satisfactorily if you are a smoker.
Stop smoking permanently by Allan Carr is one way to do it. This is especially important in 2021 with the corona virus honing in on poor lung function.

FOOT PAIN

In the practice, we often find a problem in the foot or ankle may be the underlying cause of back pain. It may be frank stabs causing you to limp, or simply a dysfunctional joint.
If you have backpain, or your neck for that matter, that is not responding the way you would like it too, ask your chiropractor to look at your foot; and the length of your leg.
Have A Question about your lower back?
I receive many questions about Chiropractic. It might be help with a spinal condition, but it might also be from a person who can't walk after a hip operation, or some such thing.

I will do that by answering your questions personally, but it will be converted to a Web Page so others can benefit from your questions. Omit your name if you like.

However, do understand that, in the main, I'm going to be directing you, should it be pertinent, to a Chiropractor in your neck of the woods. I'll respond to all reasonable inquiries, but please be specific, and give as much detail as you can.

Do understand that lower back pain is extremely complex, so I can only give general guidelines. There's no substitute for a careful thorough chiropractic examination.


What Other Visitors Have Said
Click below to see contributions from other visitors.

If you find my answer useful, please ask friends to grade it.

Did you find this page useful? Then perhaps forward it to a suffering friend. Better still, Tweet or Face Book it.