Postero LATERAL Disk Herniation

... leans AWAY from the pain
Keywords; postero lateral disk herniation, chiropractic, antalgia, 50 percent less pain rule.
This is a serious condition seen every day in the chiropractic clinic. It's bread and butter for the chiropractor, but should never be taken lightly. It will take a minimum of six weeks to heal. Injure your back again within that period and you are asking for serious trouble, and the likelihood of radiating pain down the leg.
A lumbar disc protrusion herniation  may, but not necessarily, cause an antalgic list to starboard as you can see in the case of this young man. In the case of a postero lateral disk herniation, should you go into this antalgia, you will lean away from the side of pain.
A scoliosis is a permanent twist in the spine, but an antalgia is temporary; you wake up one morning with severe lower back pain and find yourself looking like the leaning tower of Pisa. After the disc has been reduced you will again stand up straight as normal. 
A postero lateral herniation is the more common type, and is less likely to lead to surgery five percent of the time if one follows one thousand cases. But it is a serious condition, that must never be taken lightly; it bites.
I had an interesting case last week with radiating pain down the leg; I reluctantly suggested they cancel the long drive to Spain for the summer holiday, or she should fly; sitting must be avoided as it increases the pressure in the disc twelve times. They chose to go ahead with it; this week I'll find out how she made out. 
Antalgic posture

The sign of Pisa
An antalgic posture is commonly a feature of the postero lateral disk herniation.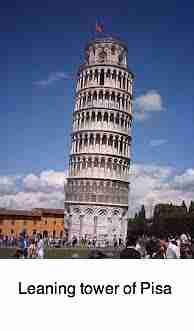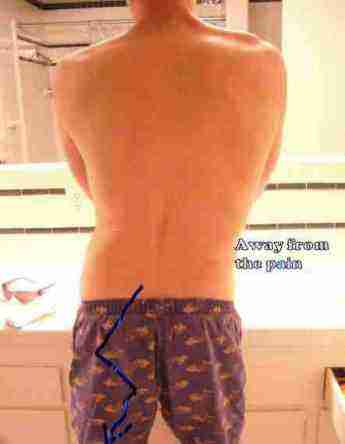 Notice how in the picture on the left, that the disc bulge is LATERAL to the nerve root. You will get relief by leaning to the right, pulling the nerve root AWAY from the bulge.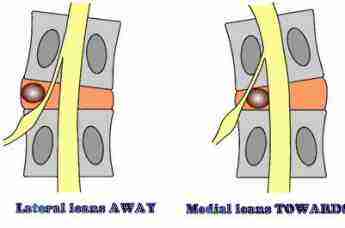 Leaning towards? Or away from the pain? Or, just struck straight forwards, unable to straighten up?
Chiropractic
Chiropractic is the treatment of choice in my book for the postero lateral disk herniation; but we must be full conscious of the fact that only fools rush in where angels fear to tread.
The Rules
Get to your chiropractor quickly. The postero lateral disk herniation is not the time for the wait and see what happens approach, which I usually advocate with pain.

One doesn't need to run to the doctor with every cough, nor to the chiropractor with every little pain. But if you have the sign of Pisa, don't wait.
Stay at home at least until you can stand up straight again for 24 hours. It will take a few days at least, and sometimes a few weeks.

Massaging bed rest

may be necessary.
Try very hard not to sneeze or cough. A quick nose blow will usually abort a sneeze.
Immediately start putting an ice compress on your back for 20 to 30 minutes, perhaps alternating with a little heat; at least twice a day. It's also the best painkiller.
Stay out of the bath; shower only.
Don't sit, not at all, until you are up straight. Perching on the edge of a desk is okay.
Your chiropractor will advocate a rehabilitation program. Make sure you go through with it. Otherwise you will again be all bent and twisted in a few weeks or months, with a much greater likelihood of

leg pain sciatica.
Leg pain
Postero Lateral disk herniation causes pain that may radiate down your leg. If you are in an antalgic posture, you will be leaning AWAY from the painful leg.
For details of the pain patterns in the leg, click here: Tingling in feet and legs ...


What is a herniated disc? A disc consists of two parts, an outer ring of tough fibres, and an inner bubble of gel. In the so-called slipped disc, both the Postero Lateral Disk herniation, the Postero Medial disk herniation and the (Far) Lateral disc herniation the bubble of gel herniates through the tough outer ring. At this link I have described in detail what may be happening in your back. Read more … Slipped disk ...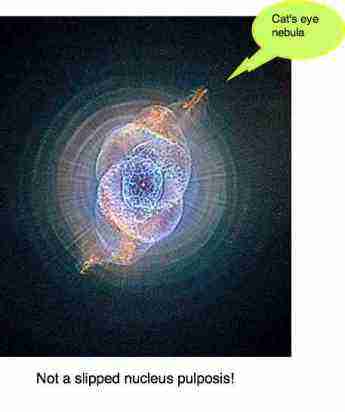 A herniated bubble of gel in a slipped disc? No, a photograph of the Cat's Eye nebula taken from the Hubble telescope. Beautiful, eh!
50 Percent less pain rule
Lower back exercises

The moment you come out of the antalgic posture, the pain decreases dramatically. Now comes the dangerous period: you feel 50 percent less pain but the annulus fibrosis has probably healed by less than 10%. The central gel, the bulging nucleus pulposis has been reduced, so you have much less pain and are standing upright, but now at least six weeks must pass before that tissue has completely healed. Beware!
I advocate doing a set of very gentle exercises even when your back is extremely painful. Movement within the joint is what prevents a huge amount of fluid - swelling - from invading the disk. But you do need to be discrete and sensible. You are not out to make the Olympic team!
Important considerations if you have pain in the leg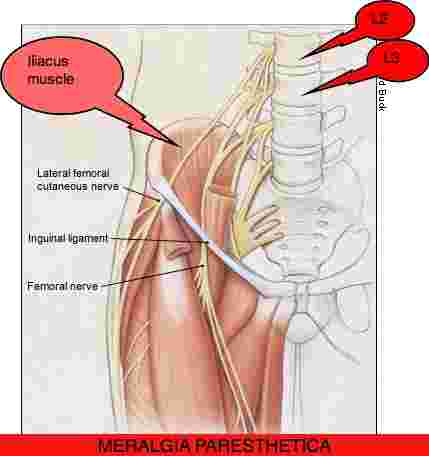 Useful links

Have A Question about your lower back?
I receive many questions about Chiropractic. It might be help with a spinal condition, but it might also be from a person who can't walk after a hip operation, or some such thing.

I will do that by answering your questions personally, but it will be converted to a Web Page so others can benefit from your questions. Omit your name if you like.

However, do understand that, in the main, I'm going to be directing you, should it be pertinent, to a Chiropractor in your neck of the woods. I'll respond to all reasonable inquiries, but please be specific, and give as much detail as you can.

Do understand that lower back pain is extremely complex, so I can only give general guidelines. There's no substitute for a careful thorough chiropractic examination.


What Other Visitors Have Said
Click below to see contributions from other visitors.

If you find my answer useful, please ask friends to grade it.

Did you find this page useful? Then perhaps forward it to a suffering friend. Better still, Tweet or Face Book it.