Shoulder pain
Shoulder pain syndromes, the primary muscles conditions anyway, involve one or more of half a dozen structures in the shoulder, some of which belong to the so-called rotator cuff.
The acromio clavicular, or AC, joint is often involved, preventing full movement between the collarbone and the shoulder. It readily becomes fixated in these syndromes, probably the reason that it is the second most likely joint, after the thumb, to become degenerate. More about immobilization arthritis later.
The underlying cause of many arm pain syndromes including the shoulder often lies in the cervical spine, or the first rib, also known as a thoracic outlet syndrome which affects both the artery and the nerves to the upper limb. Raising it above the head starves the hand of blood and nerve supply, increasing the tingling.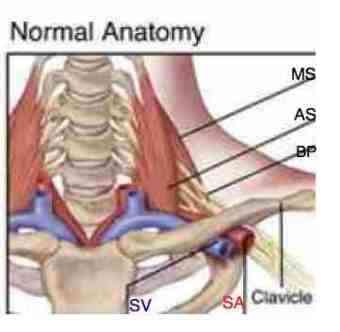 Rotator cuff syndrome
Rotator cuff syndrome is a common affliction; mostly it is benign but neglected often leads to chronic shoulder pain.

It behooves the chiropractor to carefully examine the shoulder to determine if the pain is a referred from the neck, or a shoulder condition, perhaps muscular, or even a torn ligament. And if there is a history of breast or lung disease, the cervical spine and upper arm are prime targets for metastasis.

Shoulder pain usually starts after minor trauma or an unaccustomed activity; using a heavy drill, painting the ceiling, or lifting an unexpectedly heavy suitcase, for example. The key is a little warmup, and that usually does not happen when we have never had problems before.
But, if you have previously suffered from shoulder pain, then it behooves us to do a few loosening up exercises for the neck and shoulders before beginning odd jobs.
I have a large garden, and yesterday it involved a couple hours with a heavy chainsaw removing two invader species. It is hard, and yes, fairly dangerous work. Large trees are widow-makers. I wear eye protection, gloves and heavy trousers, and a few warm up rotator cuff strengthening exercises did the trick, not unlike the preparation for a game of tennis.
The rotator cuff syndrome is a painful and debilitating condition giving discomfort with every movement of the arm, particularly lifting it above your head, and dressing and undressing.
Fortunately not many cars still have window winders; that used to be torture. But changing gear is often painful too; more further down this page. Untreated, it often leads on to frozen shoulder.
This homemade arm exerciser can be very simply made for about five dollars; a great help in treating shoulder pain.

Frozen shoulder
One of the most painful and debilitating conditions in our chiropractic clinics is the frozen shoulder. It is a complex condition which, untreated, medical science reckons will abate naturally over three years; thirty-six long months of hell. Nights are disturbed, dressing is difficult and putting on a jacket is almost impossible without help. A deep upper back ache is often a feature.

Frozen shoulder causes and chiropractic treatment may have no scientific basis according to the literature, yet there are few conditions that I love more to treat; patients respond magnificently if they will persist with a home exercise regime to sustain the improved range of motion and decreased pain from the treatment.
Many routine activities become impossibly painful. Like getting the tahini out of the fridge when making hummus. You do know about hummus, right? Your five colours in one easy dish, the second most effective food for lowering raised cholesterol and you can make this authentic hummus recipe in your own kitchen in only five minutes.
Shoulder pain
The rotator cuff is a group of four muscles; if you regularly enjoy a shoulder of mutton, then you are well acquainted with the rotator cuff muscles to which for simplicity we will add the biceps muscle.
Understanding the shoulder anatomy may help you grasp your pain better.
The shoulder joint is very shallow to allow for greater range of motion, but this also creates more difficulties for the shoulder. The arm bone, the humerus, is tightly held in place by ligaments and the rotator cuff muscles.
These muscles work together in harmony to enable one, for example, to bounce a flat pebble across a pond. Rotator cuff syndrome.
Left shoulder pain is also one of the symptoms of an impending MI. New research published in 2017 in the Journal of the American Medical Association that almost 50 percent of heart stroke diabetes is entirely caused by 10 dietary factors. Taking responsibility for our own well-being is the name of the game.
There appears to be a strong correlation between the inflammation of raised blood glucose and shoulder pain.
AcromioClavicular or AC joint
The AC joint is a vital pivot in the shoulder, located right at the tip of the shoulder. Injured frequently in falls on the outstretched arm, it has the dubious distinction of having the tendency to become the second most arthritic joint.
Mobilising and adjusting the acromioclavicular joint is one of the reasons why chiropractors have such good results in treating shoulder pain.
Untreated, the arthritic spurs from the joint will often affect one of the rotator muscles, the supraspinatus, which lifts the arm. The tendon passes immediately below the acromioclavicular joint.
The triceps muscles, the most frequently affected by a pinched nerve, often becomes very tender in shoulder pain condition, often with active trigger points found in the belly of the muscle and tendons.
Less commonly problematic is the SC; but occasionally it may be affected by Tietze's syndrome and the sternoclavicular joint causing a bizarre lump on the upper chest.

If you suffer regularly from shoulder pain then I recommend you do a few simple exercises every morning before arising, and again as a warm up before strenuous work. Prevention is better than a cure, right?
This morning I'm going to be using a heavy chainsaw to get in firewood for the winter; it's difficult and dangerous work. Focus without distractions and strong shoulder muscles are vital.
Researchers have discovered that the hyaline cartilage in joints that move less, whether by being put in a sling for a prolonged period or fixated by a chiropractic subluxation, quite rapidly becomes arthritic. It's the most common cause of spinal arthritis and prevention of immobilization arthritis lies central in chiropractic philosophy.
Once your shoulder pain has healed start exercising regularly. Perhaps splitting wood for the winter, gardening, tennis; the couch potato has more pain coming.
Plant a tree for a greener planet?
Choose your tree carefully. Do you have a big garden and a warm climate? The avocado is perfect. Ours right now has over one thousand pears on it. Or do you have only a small backyard? Nothing beats the divine lemon; a scent to die for and the most beautiful fruit.
Even in Chicago you could plant it in a pot and bring it in during the winter. But you need a strong shoulder and back to dig a hole for a lemon tree; plenty of warm up is called for.
The entrapment of both the artery and brachial plexus to the arm by a first rib subluxation and or scalene muscles is a major factor in these arm pain syndromes. Starved of blood and a normal nerve supply the structures of the shoulder become vulnerable to injury.
Deep upper back pain
Deep upper back pain is common to many conditions.
Shoulder conditions are often associated with deep upper back pain.
The computer, particularly mouse work and a poor setup should also be considered if you spend a lot of hours typing.
Immobilisation arthritis caused by fixations in the lower cervical spine is a common cause of the syndromes causing shoulder pain.
Please do not write using cellphone grammar; you are completely wasting your time; I will not respond.

Suffering from shoulder and/or arm pain?
Do you have any questions about shoulder and/or arm pain that is not getting better? Share it, perhaps others have some insights that may be of benefit.

STOP: Are you writing on a cellphone? I DON'T RESPOND TO SMARTPHONE GRAMMAR. GOOGLE DOWNGRADES SITES WITH POOR ENGLISH AND I DON'T HAVE THE TIME AND INCLINATION TO CORRECT YOUR LETTER.
What Other Visitors Have Said
Click below to see contributions from other visitors to this page...

Pain in Right Shoulder, armpit, arm, & neck

Pain in Right Shoulder, armpit, arm, & neck x 3 mos? Hi! and thank you so much! I hurt my right shoulder (I thought) lifting box above my head 3 mos. …
USEFUL LINKS
Google appears to frown on too many links, so phrases in bold, like tree planting help above, need to be put into the Site Search function in the navigation bar above if you want more information.

---
---
Did you find this page useful? Then perhaps forward it to a suffering friend. Better still, Tweet or Face Book it.