Help for sciatica pain

With about 20% of folk having sciatica pain at least once in a lifetime, and 5% of people having an attack every year, many treatments abound. None work all the time.
None of them can be considered a cure; whether you consult a chiropractor, surgeon or just your medical doctor, diligence about lifting, avoidance of bad chairs and regular lower back exercises should all be a daily consideration.

What is Sciatica?
For the purist:
sciatica (noun)
sciatic (adjective)
But internet users like to google sciatica pain so that is what it is today. The consumer is always right.

The origin of the Sciatic nerve

There are two principle causes of this neuropathy:
Chemical irritation of the nerve
Pinching of the nerve
It is the largest nerve in the body; it's as thick as your finger and runs from the lower back to the foot.
Before thinking about how to cure sciatica you should understand first what it is, otherwise, if you do not do the right exercises, the miserable affliction will start all over again next week.
There are other rare sources such as tumors, but they really are like hen's teeth. If you have loss of bladder control, weight loss, a malignancy elsewhere, well, yes, the other causes of sciatica leg pain must be considered.
The sciatic nerve is made up primarily of three nerve roots located at the very bottom of the spine: primarily the so called lumbar 4, lumbar 5 and sacral 1 roots. They travel down the spine in what is called the horse's tail and then escape via a foramen.
This passage, its full name is an inter vertebral foramen, is a narrow tunnel between the bones which enables the nerve root to escape from the spinal canal on its way to the leg.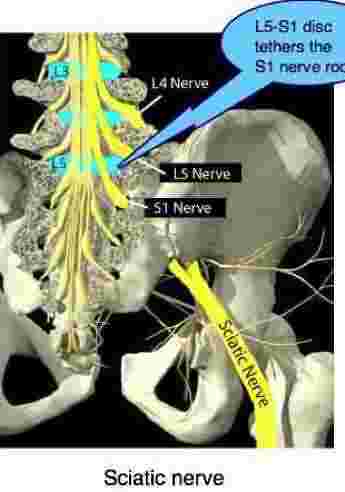 What is a foramen?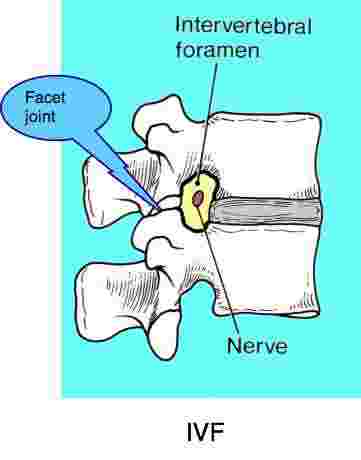 On each side of the spine an intervertebral foramen, or IVF, is located at each spinal level, strategically and vulnerably placed right between the facet and disc joints. Both can be causes of sciatica by interfering with the nerve roots.
HOW DO THEY INTERFERE WITH THE NERVE ROOTS?
Chemical irritation
Both the facets and the vertebral end plates are made of hyaline cartilage, one of the tissues in the body that has no blood supply. They are supplied with nutrients and oxygen, and waste products removed, by fluid in and around the joints.
If either the disc of the facet joints are fixated, the synovial fluids in the joints are not adequately refreshed causing a build up of waste products. This toxic soup of wastes is now known to be one of the causes of sciatica.
Pinching by a disc bulge
A bulging or slipped disc can physically press on the nerve root causing sciatica symptoms; pain, tingling, numbness and weakness in the leg. Very occasionally it can also cause bladder problems. SLIPPED DISC SYMPTOMS Case File ...


Pinching by an arthritic facet
A chronically subluxated facet joint is starved of oxygen and nutrients. Experiments on white mice show that degeneration of the hyaline cartilage (scientists call it Immobilisation Arthritis) sets in within 13 hours.
Gradually the shape of the bone changes, becoming large and flattened and allowing the vertebra to subluxate forwards, called an antero-lysthesis, which can pinch the nerve root located just forward of the facet. Soft tissue cysts complicate the issue.

Sciatica Back Pain Treatment

How to cure sciatica
One's first thought should be of prevention before sciatica cures. From Chiropractic Tips you can get some very basic lumbar exercises. We all sit too much, our core muscles become weak and a few simple exercises done faithfully every day will do wonders for sciatica back pain treatment. Think immobilisation arthritis prevention and stretches before sciatica nerve treatment.
How to cure sciatica? Frankly, it does not exist. Once you have had a bad attack of sciatica, no matter what help you seek, it will remain a vulnerable part of your body. Daily exercise is your best bet. And accept that lifting pianos and the like is not for you.
CHIROPRACTIC EXAMINATION
Your chiropractor will start with a posture examination. Do you have the sign of Pisa - look like a question mark? Do you have a short leg, what is known in Chiropractic jargon as a Leg Length Inequality? Effective help for sciatic pain is dependent on a proper diagnosis of the level.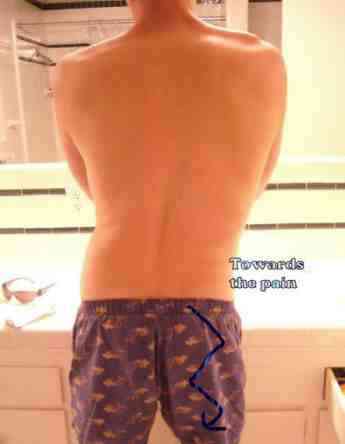 The sign of Pisa

Next your chiropractor will test your ranges of motion. Does bending forwards hurt? Most important, does bending increase the pain or cause a tight feeling in the leg? If so, you certainly need help for sciatica pain. If bending backwards, or to the side causes pain to radiate down your leg then you may have a condition called Lumbar stenosis. It too responds well usually to Chiropractic. Here one of our monthly newsletters. Have you signed up yet?

NEUROLOGICAL EXAMINATION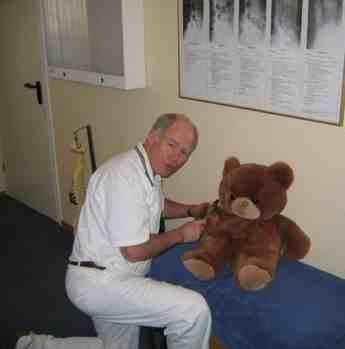 ---
Next your Chiropractor will be looking for "hard neurological signs". Can you stand on your heel, raising your big toe, can you go up and down several times on your toes, taking your full weight on one foot? Then the reflexes and tests for numbness or increased sensation in the skin.
It is all quite involved and gives precise information as to which nerve root is affected. Sometimes it can be more than one level causing considerable scratching of the head. That's where a MR scan is so useful.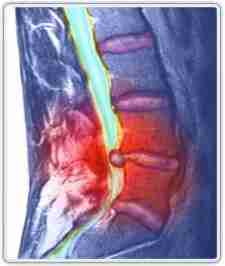 ORTHOPAEDIC EXAMINATION
Slump test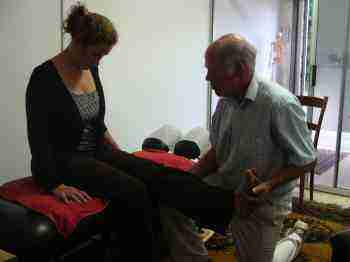 Your Chiropractor will do a series of orthopaedic tests to help in making a diagnosis before starting help for sciatic pain. The purpose of these tests is to stress the affected tissue, and they may cause some pain, and occasionally "after pain". The artful examination looks to make a diagnosis without actually aggravating the condition. For example the Slump test places increasing sciatic nerve stretches to determine whether the nerve is just irritated, or actually pinched. SLUMP TEST FOR SCIATICA ...
MOTION PALPATION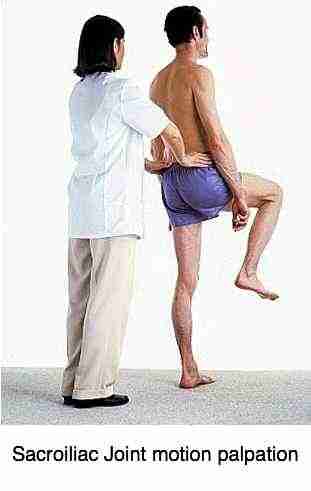 Motion palpation, a technique developed by Belgian chiropractor Henri Gillet, is an important part of the chiropractic examination.
Your chiropractor will carefully examine your spine and pelvis looking for fixated joints. It is a difficult procedure; more of an art than a science perhaps, and requires a long time to perfect. After nearly thirty five years I am still learning.
It is an absolutely vital part of my protocol, because my sciatica back pain treatment is based on these motion palpation findings.
Why is that, you may well ask? Let us consider the lumbo sacral disc at the base of the spine. Traditionally, it's considered this bottom most joint will pinch the first sacral nerve root. That's because the herniation is usually central.
However if the disc extrudes laterally into the foramen, then it will pinch the nerve root above, the fifth lumbar, and confuse the examining doctor; the pain will radiate to the big toe area.
If you can't raise your big toe then he or she is likely to think it's not the bottom most disc, but one higher.
If he's luckily enough to have a scan then all is revealed. However this is not normally the case; MRIs are very expensive. It is motion palpation that helps your chiropractor decide which level he should be adjusting. Adjust the wrong vertebra and it just will not get better.

CHIROPRACTIC TREATMENT
 Here is where there is considerable variation depending on your condition, and your Chiropractor's preferred treatment protocol. One chiropractor might prefer using a Thompson drop treatment (my first choice), another frank manipulation, an activator, SOT pelvic blocks, McManus traction... all of these have their place, one perhaps more suited to your condition that another.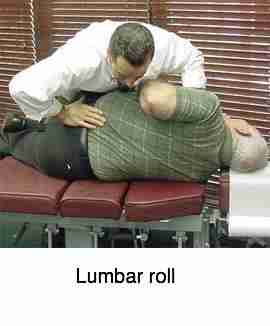 Lower back exercises
Lower back exercises are vital to properly rehabilitate the injured joint, and strengthen the core muscles; they also help prevent you from joining that group of five percent who will have an episode every year and eventually progress to surgery. Your chiropractor can provide help for sciatica pain, but you have to help yourself too.

In all honesty, I cannot guarantee it and, in fact, I think it's unlikely that lower back exercises can fix a sciatica. But they will do wonders to prevent the next bout of pain once your chiropractor has reduced the pressure on the nerve. There's no harm in trying them to see if you can get relief, though; perhaps for a  maximum of a week or two.
Then, say to yourself, in all honesty, is this improving? If not, well, you know what to do. It's time to get help.

Rule of thumb:
If you get pain in the leg, or it's very tight in the thigh with forward bending then do the disc exercises on YouTube.
If you get pain in the leg whilst bending backwards then do the facet exercises. However, this is not always true; an extruded disc into the foramen will also give pain on extension. Be guided by your doctor who has the responsibility of making the diagnosis.

If you are having lateral thigh pain, then Noble's test helps to exclude an ilio tibial band syndrome.

Exercises for relieving sciatica
In short, exercise is more for preventing the next episode than curing you of this one. I am particularly in doubt about the merits of sciatica stretches; if the nerve is tethered and you stretch it, further damage is likely.

Useful links

Neurotransmitters are essential for the conduction of nerve impulses. The anticholinergic side effects of many medicines need to be carefully weighed. Have the alternatives been considered?

Have A Question about your lower back?
I receive many questions about Chiropractic. It might be help with a spinal condition, but it might also be from a person who can't walk after a hip operation, or some such thing.

I will do that by answering your questions personally, but it will be converted to a Web Page so others can benefit from your questions. Omit your name if you like.

However, do understand that, in the main, I'm going to be directing you, should it be pertinent, to a Chiropractor in your neck of the woods. I'll respond to all reasonable inquiries, but please be specific, and give as much detail as you can.

Do understand that lower back pain is extremely complex, so I can only give general guidelines. There's no substitute for a careful thorough chiropractic examination.


What Other Visitors Have Said
Click below to see contributions from other visitors.

If you find my answer useful, please ask friends to grade it.

Other relevant useful pages @ Help for sciatica pain ...

Permanent sciatic cures don't exist but to help prevent arthritis in the lower back, think:

Monthly newsletter - sign up here

Did you find this page useful? Then perhaps forward it to a suffering friend. Better still, Tweet or Face Book it.