Groin and Thigh pain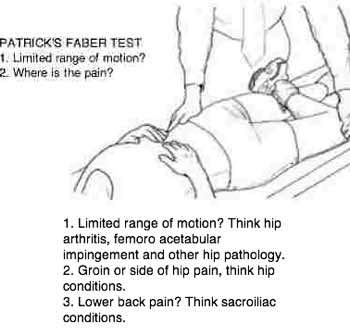 Groin and thigh pain are common complaints at the chiropractic coalface.
Is your upper leg sore and stiff? Do these little tests please.
Lie on your back and then gently pull your knee to the chest. Using both hands, rotate your hip. Does it feel oddly stiff? Are there sharp stabs where the upper leg meets the pelvis, or on the side of the femur?
Compare the naughty hip with the other side, though you can have this condition bilaterally. Then both would be stiff, though one is usually worse than. 
Now, place your heel on the opposite knee, and drop down into the lotus position. Is it stiff, sore or just plain uncomfortable? Again, compare the two sides.
This is not unexpected in the elderly person with arthritic hips, but it's certainly not normal in the young and middle aged adult.

If it has a very stiff sensation, it's known as a hard end feel and may well be caused by abnormalities in the hip.
In the young person it could be femoro acetabular impingement syndrome with what is known as a pincer or cam deformity. It's thought to be a congenital defect in the hip in which there may be growths either on the femoral neck itself, called a cam defect, or on the socket, where it is called a pincer.
This page was last updated by Dr Barrie Lewis on 26th August, 2019.

Femoro Acetabular Impingement Syndrome

Femoro acetabular impingment syndrome comes in two forms; CAM and Pincer defects.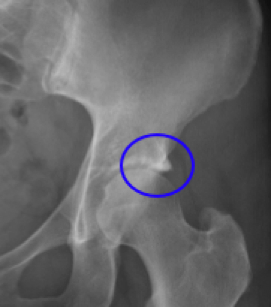 FAIS Pincer defect
Groin and Thigh pain

Groin and thigh pain is often a hip condition or a pinched nerve in the upper lumbar spine but can be a myriad of things.
Pincer

Pincer and CAM defects limit the range of motion of the hip making it prematurely stiff.

Usually the young person wouldn't recognise it as abnormal, because it has always been stiff. You would think it is normal. Only when it starts hurting in, perhaps even in your late teens, or young adult is it realised that there is a problem, sometimes too late.  If not carefully managed, femoro acetabular impingement syndrome progresses relentlessly to arthritis.

Hip arthritis is another condition causing groin and thigh pain.
This is usually but not always found in the older person. Plain and simple hip arthritis. Except it's never simple, nor is it plain. One of the features of arthritis of the hip is that it often causes discomfort radiating to the front of the thigh towards the knee joint. Hip arthritis causes groin and thigh pain.
And it's often thought to be a knee problem because of the tendency to radiate pain towards the knee.

HERNIA IN THE GROIN

It's strictly my own opinion, based on the hundreds of people treated with FAIS, many of whom have been told they have an inguinal hernia:
Before anyone has surgery for an inguinal hernia they should be examined by a chiropractor or orthopaedist who is knowledgeable about Femoro Acetabular Impingement Syndrome. And vice versa.

Lumps in the groin and testicle need to be carefully evaluated by a medical specialist for lymphomas too.
Developmental Hip Dysplasia


In FAIS there is "too much coverage" of the ball of the femur, causing the restricted movement, even in a young person.
In developmental hip dysplasia there is "too little coverage; DDH for short.
At the Chiropractic coalface both FAIS and DDH cause groin and thigh pain but in Developmental Hip dysplasia the range of motion of your hip will be greatly increased. It has a "soft end feel" compared to FAIS.

What's vital is to differentially diagnose between "hypermobility" and DDH - both present in very similar ways (increased range of motion in the hip) but the one must be taken very seriously because it progresses unerringly to hip arthritis, the other doesn't.

As as it's congenital the chances are that you won't recognise the increased range of motion as unusual. It is sometimes associated with a painful click and it's commonly in both hips.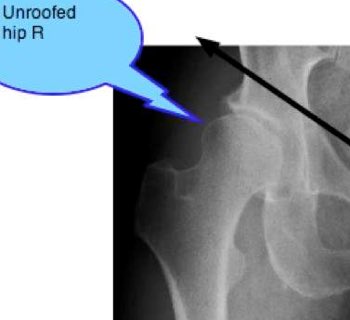 Notice how this hip has a sloping roof and is becoming narrowed. Hip arthritis. It also has another unusual feature: a Pincer. This is a mixed FAIS and DDH, one making the hip stiff, the other hypermobile. Without X-rays it's virtually impossible to be sure what's happening.
HIP CAPSULITIS
The ball of the femur is held in place with some very powerful ligaments, which form a sort of bag around the hip joint. These ligaments, like any ligaments (say, in your ankle) can be strained and sprained in sport, in falls, in overuse, causing pain groin and thigh pain; hip capsulitis.
The capsule also retains the synovial fluid in the hip joint, lubricating the cartilage. This fluid contains a very special substance called hyaluronic acid that coats the cartilage cells and enables them to bind water molecules. It's this water-binding property of cartilage that makes it smoother than ice, literally, and gives hyaline cartilage its shock-absorbing qualities.
Loss of range of motion in any joint limits fresh oxygen and nutrients from reaching the synovial fluid, and increases the build up of toxic waste products. This is really what chiropractic is about - finding fixated, subluxated joints and restoring normal biomechanics to prevent the onset of immobilisation arthritis.
MERALGIA PARESTHETICA
When I studied chiropractic, back in the last millennium, there was no mention of meralgia paresthetica. Perhaps that was the day I cut class and went skiing! Remember, as one wag put it, fifty percent of all doctors, and chiropractors too, graduated in the bottom half of the class!
Seriously, though, when I first used to bump into this condition, it was considered untreatable by medical means. It is unresponsive to even the strongest drugs, and nerve blocks bring only temporary relief. So I accepted what the boffins said. That was a big mistake; experts are often blinkered.
Faced with patients on a regular basis with numbness or nerve pain on the side or front of the thigh, I started to take an interest in this condition. And lo and behold, meralgia paresthetica responds extremely well to chiropractic treatment. It does require something more than just adjusting the spine and pelvis though.
The treatment of meralgia paresthetica is controversial. The standard treatment at emedicine is as follows.
"Should the pain be severe, then a focal nerve block can be done at the level of the inguinal ligament with a mixture of lidocaine and corticosteroids. This should temporarily relieve the stabs and tingling, though not the numbness, for several days to weeks. Ultrasound guidance for the needle may be beneficial as the femoral nerve and arteries are not far distant.

Neurogenic pain medications such as carbamazepine or gabapentin typically are not as helpful. If drugs of this type are required, then surgical decompression should rather be considered."
After many years of regularly being confronted with pain and numbness down the side of the leg, and sometimes front of the thigh, in patients who didn't respond to chiropractic adjustments of the spine, I realised that this is a so called double crush syndrome. The nerve is irritated not only in the spine but also in the groin.
Not unlike carpal tunnel, another double crush syndrome, any treatment that focus only on the spine, or the groin is doomed to fail. Both have to be addressed.

Read more about the chiropractic treatment of Meralgia Paresthetica.
Maigne's syndrome

Another enigma faced at the Chiropractic Coalface is pinched superior cluneal nerves high in the lumbar spine causing radiating pain to the buttock, and groin and thigh pain. Maigne's syndrome is often missed as a diagnosis because the source of the pain is far from where it's experienced.
The diagnosis is often difficult. Just this evening I had a patient with pain in the buttock around the sacroiliac joint. On examination, she had both marked T12 fixation and severe tenderness, and right SI pain, and positive orthopaedic tests. Is this a Maigne's syndrome, or a sacroiliac syndrome? Both need to be considered and treated.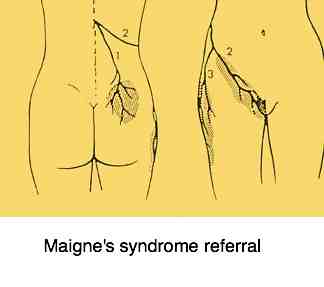 Perthe's disease

Upper leg pain in the child must always be taken very seriously; never write it off as growing pains until it has been properly assessed. If missed Perthe's disease leads to life long misery.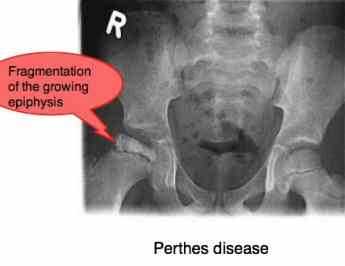 If your child, typically a boy around the age of six, though it can occur in both sexes, and also in the teenage years, starts to limp and complain of groin and thigh pain, please take him or her immediately to your chiropractor or doctor. There is a nasty condition of the hip called Perthe's disease that affects children.
If it is missed, Perthe's disease leads to multiple hip replacements, starting around the thirties and a life of severe disability.

If your child does not get weight off that hip immediately for a period of about two months, it is almost guaranteed he or she will have the first orthotic before 35. Yes, I have two patients whose groin and thigh pain was written off to Growing Pains by their medical doctors when they were children.
They both had the first hip replacement before 30. Both are now in early 50's. One has been on crutches for 10 years after three surgical procedures, and the other at 54 is in a wheel chair after four hip operations.
Growing pains do not exist. At least that is my opinion, and this is one groin and thigh pain you must not miss as a parent.
Hip arthritis

Hip arthritis causes major disability and expense; groin and thigh pain spreading down towards the knee are typical symptoms.

These conditions, undetected and untreated lead to a much higher incidence of hip arthritis, pain and disability.
I'm convinced that treated appropriately at time, and followed by a lifetime of simple hip exercises, many could avoid the expense and difficulties of a total hip replacement. The key lies in the correct, timely diagnosis.
USEFUL LINKS
---
---
Do you have a question about your hip?
Are you suffering from pain in your groin or a stiff hip?

Stop! Are you writing on a cellphone? I'm unlikely to answer as correcting your not so smart grammar is not my forte. Please submit your question from a computer.
What Other Visitors Have Said
Click below to see contributions from other visitors to this page...

Did you find this page useful? Then perhaps forward it to a suffering friend. Better still, Tweet or Face Book it.