Lower Back Pain

Lumbago
Lower back pain is providing an increasing and very significant financial strain on Western society. Surgery, high tech scans, staggering hospital fees are straining not only health care, but society in general to the limits.
It is in this environment that chiropractic help has thrived, but chiropractic care too has become very costly. Everyone is jumping on the bandwagon. What can you do to help yourself?

A general pessimism purveys society, the patient and insurance companies. The employer too is feeling the pinch as more workers take extended time off for the care of lower back pain.

Medicine and chiropractic help alike would acknowledge that chronic disc disease is clinically challenging, even to the most experienced doctor; whilst under care, the unexpected can radically change the outcome of treatment. One sneeze, a long journey considered unavoidable to the funeral of a beloved, or even a stumble while taking a walk can all play havoc.
TWO TYPES OF SLIPPED DISC
Notice the PL in the graphic above? The disc most commonly bulges in a Postero Lateral direction. This may be associated with the Sign of Pisa, a strange lean to the side, in the direction away from the pain. Postero Lateral disk herniation ...
However, the disc may also bulge in a postero medial direction. PM. Then you may find yourself leaning TOWARDS the painful side. Postero Medial disk herniation ...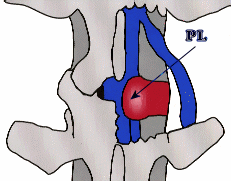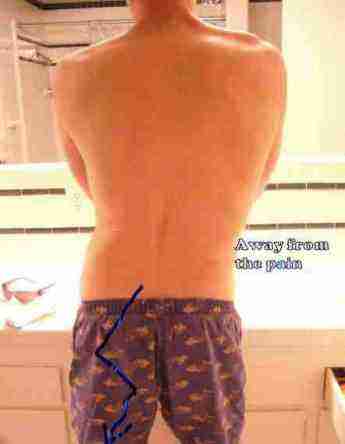 Lower Back Pain

Patients regularly complain of losing control of their physical bodies and the challenge for the clinician is to motivate the patient to become actively involved in the treatment of their condition. Otherwise the cost of care can become horrific...

The economic burden of a disease is the sum of all costs associated with that condition which would not otherwise be incurred if that disease did not exist. It's not just the fee paid to the doctor. Far from it. Cost of low back pain ...

Other common causes of low back pain are the
Searching for something specific? Say, " slipped disk ". Just type it in here...
Custom Search


From the Chiropractic Help coalface
Mrs S. consulted me yesterday, and my secretary was soon cursing. I started running late. Why?
Mrs S. is an elderly lady. She could barely walk two months ago when she first consulted me, so bad was the pain in her groin and her lumbar region. Actually sacro-iliac pain, but never mind.
'Doctor, I have to stop treatment, I'm afraid.'
'Oh, why?' That's me speaking.
'I just can't afford your fees any more.'
'I can understand. You're not the first. But how are you doing?'
'Oh, I am so much better. I can walk again, and I can sleep on that hip now. I really want to thank you. I don't want to appear ungrateful, but this will be my last consultation.'
The fact of the matter is that health care is expensive. And my fees are amongst the lowest in town. Mrs S and I came to a compromise. She is 1000% better, but I know if we completely stop treatment, it won't be too many months before she slowly slides back to where she was. As they say: Old age is a bugger, and then you die! However, when you consider the alternative...
Will she will do her exercises faithfully? I think so. You can download them here: CHIROPRACTIC TIPS ... I hope she'll come every two months for a maintenance treatment. This is our standpoint at Chiropractic Help. The alternative is a greater likelihood of relapse.
BACK TO WORK
Numerous studies related to LBP suggest that the greatest savings from a society's perspective may be obtained by an early return to work, in order to minimise loss of productivity.
Further studies at Chiropractic Help point out that overall this is also to the patient's benefit, and not only the employer and the health insurer.
Furthermore, exercise, rehabilitation and fear avoidance training are all considered vital in achieving a good end result in the care of the patient suffering from lower back pain.
See our lower back core exercise programme.

Lumbar Spondylosis casefile

Large "arthritic-looking" osteophytes (spurs) appear ugly, but are usually asymptomatic and "an incidental finding". They have been there for years and certainly not the cause of the acute pain that began last month. Of no particular relevance. For the patient in pain, the rule is to look elsewhere for the source of pain as in this Lumbar spondylosis CaseFile.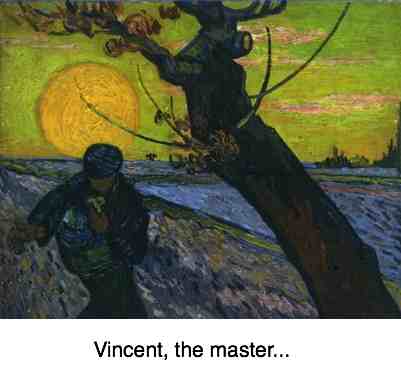 Rehabilitation and Lower Back Pain.
Do you want to garden again? Accept the discipline of rehab, or suffer more episodes of severe lower back pain.
Having spent seven years practising in the Netherlands, who could not be stirred by the Impressionists. This oil painting, The Sower, by Vincent can be seen in the Van Gogh museum in Amsterdam. Six hours to blow during a stopover at Schiphol? Make sure you get to there.
Take the train into the city, and then it's an easy tram ride. Check first whether you need a Schengen visa.

STONES IN MY CLOG
It was not only the art, but the Dutch people who made such an impression on me during those seven years. Here you can enjoy 25 odd anecdotes from the Chiropractic Coalface whilst I was in Holland. Never will I forget the woman with very acute lower back pain who arrived, supported by a man I presumed was her husband. No, not Jan I, but Jan II. Priest in my Bed ...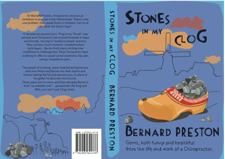 NORWAY

Low back pain patients gave an interesting insight in research done in Norway. Over 82% of patients with LBP are more than satisfied in the short term with chiropractic management.
However, in the long term, this percentage dropped indicating that more emphasis should be placed by chiropractors into rehabilitation and continuing care to prevent re-occurrence of lumbago. (JMPT 28) Hence Chiropractic Help.
EXPECTING?

Lower Back Pain and Leg Pain are often also associated with pregnancy. There are very many potential causes, with enormous economic consequences, associated with lower back pain and leg pain during pregnancy ...

Chiropractic Research is unequivocal. Manual treatment + spinal stabilization exercises + home exercises combined are of far greater and longer lasting benefit; better than any one of the three on their own.

Follow the links from Maignes Syndrome CaseFile and you'll get some core exercises that you can do at home to help with your lower back pain.
This text will be replaced
Walking
A regular walk is probably one of the most significant things that will improve a low back condition. Many sufferers find that a slow walk, like shopping, is hell, but a relatively faster walk is far less tiring and painful.
Once over the acute phase of Lower Back Pain, a regular walk can make a huge difference. For more about how far, and how fast to walk, first take the KASCH PULSE RECOVERY TEST ...
Of course, walking is also the most important prevention of osteoporosis. Causes of osteoporosis ...
Why all the emphasis on rehab?
A Swiss and Dutch research programme has shown that function centred rehabilitation is more effective than pain medication in the treatment of lower back pain. It gets patients back to work much faster.
However, in both programmes, around 50% of the patients ended up after three years being permanently disabled.
In Chiropractic, we combine the benefits of manipulation with function centred training exercises to get you over lower lumbar back pain and/or leg pain sciatica and back on your feet as soon as possible.
This emphasis is to prevent chronic back pain ... few things are more debilitating. An ounce of prevention...



LOWER BACK SURGERY
Chiropractors are not in principle against lower back surgery, in the right circumstances: unremitting LEG PAIN that has not responded to conservative care.However the results are so unpredictable especially in smokers, the obese and diabetics.Did you know that Medicine's own research reveals that less than 50% of lumbar fusions have a satisfactory outcome... Go from LOWER BACK PAIN to LOWER BACK SURGERY ...



Maigne's syndrome

A not-uncommon, and less well understood cause of lower back pain is the Maignes Syndrome ...
LINKS TO OTHER INTERESTING SITES
Have A Question about your lower back?
ARE YOU WRITING ON A CELLPHONE? STOP RIGHT NOW BECAUSE I DON'T ANSWER NOT SO SMART CELLPHONE GRAMMAR.

I receive many questions about Chiropractic. It might be help with a spinal condition, but it might also be from a person who can't walk after a hip operation, or some such thing.

I will do that by answering your questions personally, but it will be converted to a Web Page so others can benefit from your questions. Omit your name if you like.

However, do understand that, in the main, I'm going to be directing you, should it be pertinent, to a Chiropractor in your neck of the woods. I'll respond to all reasonable inquiries, but please be specific, and give as much detail as you can.

Stop! Are you about to write on a not so smartphone? Don't. The chances are good you are wasting your time and won't get a reply.

Google has taken a very strong stand against webpages with poor grammar. Please don't use capitals, dots, hyphens and brackets. Don't write from your smartphone because I simply don't have the time to correct your grammar, and won't answer.

There is no charge for this service, however if you find my answer useful, you might like to consider purchasing my latest book, Stones in my Clog. Gems, both funny and healthful, from the life and work of a Chiropractor. It's only $2.99. http://www.bernard-preston.com/Stones-in-my-Clog.html

Pose Me A Question! Pretty please, in decent grammar and spelling.

I will never give or sell your email address to anyone.

Do understand that lower back pain is extremely complex, so I can only give general guidelines. There's no substitute for a careful thorough chiropractic examination.


What Other Visitors Have Said
Click below to see contributions from other visitors.

If you find my answer useful, please ask friends to grade it.

Did you find this page useful? Then perhaps forward it to a suffering friend. Better still, Tweet or Face Book it.