Thoracic spine pain CaseFile

This thoracic spine pain caseile asks just when should you x-ray? It is ionising radiation and most certainly has side effects.

Just when should you x-ray when there is trauma involved? Must it be always? Should you cover your butt? Or, only if your gut feeling demands it?
The reality is that every chiropractor would always like to have radiographs after a heavy tackle in football causing severe back pain, for example, but the circumstances often gainsay it. The cost involved, availability of a specialist over the weekend, and notwithstanding that contact sportsmen have traumatic events every week leaving them bruised and battered makes it difficult.
You simply cannot x-ray every time a patient takes a knock.
Sean is the six-foot brawny captain of his high school rugby team. In the dying moments of the game two opponents tackled him simultaneously as he was making a dash at full speed for the line causing him to land on his right shoulder and he felt something crunch in the middle of his back. Half an hour later his mother phoned. We were just on our way out to dinner.
This page was last updated by Dr Barrie Lewis on 8th December, 2018.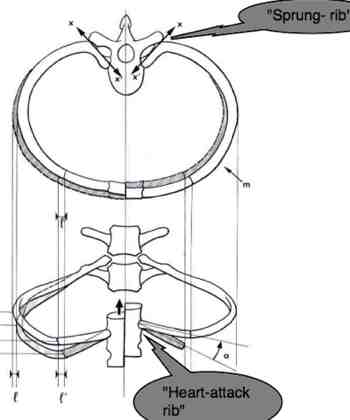 Thoracic spine pain Casefile
On examination
S was almost crying. It's not often you see a rough-tough six foot plus  young man blinking back the tears. Thoracic spine and rib pain can be severe. Plus he was supporting his right arm in a protective manner.
Lateral compression of the chest was not painful, but anterior-posterior compression caused sharp pain in the middle of his back, slightly more on the right.
Ranges of motion were reasonable in the circumstances, with right rotation and lateral flexion causing some discomfort. Deep inspiration was severe, again in the middle of the back, slightly to the right. There was no real dyspnea, and lung sounds were normal.
Percussion over the spine was normal, nor was it tender on palpation, but percussion of the rib head was painful. Deep pressure over the rib head elicited an immediate response. Ouch.
Pulsed ultrasound caused no pain.
Right shoulder pain

He admitted that he went into the match carrying a shoulder problem. The coach had it strapped, but the strapping came off in the first quarter. Passive ranges of motion of the shoulder were full and free, but resisted isometric flexion of the shoulder produced acute pain in the bicipital groove. Resisted external rotation with flexion was even worse: Biceps tendon strain. There was no sign of rupture.
Sprung or cracked rib, that was the question in this thoracic spine pain casefile. There was a distinct possibility that S had fractured a bone. Or was it a subluxated costo-vertebral joint? Should we xray? It would mean a 30 minute drive to the emergency room, and they still had an hour-and-a-half drive home.
I laid him down on the Chiropractic table and pressed hard over the rib. No pain. Percussion again. No pain. Pressure on the spine itself. No pain. Pressure over the rib head: severe pain.
Working diagnosis: 7th rib head (right) subluxation. DD: cracked rib?
Right shoulder: Biceps tendon strain.
Report of findings @ Thoracic spine pain CaseFile
Usually one would bring the patient back the next day for the ROF, an explanation of what Chiropractors do, and why, and the first treatment. That was obviously out of the question, and would have to wait for Monday.
I explained to S and his anxious parents the nature of the beast, and the dilemma. Should we wait for an X-ray? They agreed that I should go ahead, carefully, gently, not using what we call "brute force and ignorance" in chiropractic parlance.
First treatment @ Thoracic spine pain CaseFile
S tolerated deep Posterior-to-Anterior pressure over the rib-head prior to the adjustment. Good, that would not be likely in the event of a cracked rib. On the second 'take out the slack' with no thrust, the subluxated rib head repositioned itself of its own accord. Relief.
I did some soft-tissue work over and around the joint, mobilised the whole rib, and then did a gentle "anterior thoracic" manoeuvre with him sitting. No pain - almost certainly no cracked rib. The joint released.
I find that a combination of
first a PA adjustment, and then
an AP adjustment
is what works best for a rib-head subluxation.
After the proceedures, S could take in a deep breath without pain, and anterior-to-posterior compression was no longer painful. Excellent. More than that: perfect.
Active Release Therapy on the right biceps tendon proved painful but not excruciating. Despite some doubts concerning the efficacy of ultrasound treatment, I used some pulsed U/S. Two gentle exercises to be done hourly over the weekend.
After a few instructions on what to do over the weekend, we arranged for a consultation of Monday afternoon. His mother made an appointment at the same time for his kid brother: known hip dysplasia. Interesting.

Second treatment
Miracles we do at once. The impossible takes a little longer. A subluxated rib, a so-called "sprung rib" is a condition chiropractors love to treatment. It is excruciatingly painful and usually, after only one or two treatments, the pain is magically reduced. Both S's biceps tendon strain and the sprung rib were 80% less painful. There was no pain on deep breathing.
I explained to him the 50 percent less pain rule, gave him some new rehab exercises and repeated the treatment regimen of the first consultation.
Perhaps foolishly, he will be back in training this week. There's a big tournament on this weekend, and he's the captain of the first team. He'll probably be a mess next week. That's the joy of treating sportsmen.
They are tomato farmers. A magnificent box of tomatoes was offered in thanks.
Third consultation @ Thoracic spine pain CaseFile
His mother phoned in the morning. The pain in the rib is completely gone, shoulder a bit sore, and can she postpone to next week? They live more than an hour away in the hinterland.
A bit naughty, especially since S has a big rugby tournament this weekend, and we haven't started the rehab. I'm half expecting the worst next week. But that's the reality with health care; once the crisis is over, we forget the future, often to our ultimate detriment. Rehab for injuries is vital to prevent the problem from re occuring next week.
Developmental hip dysplasia

Whilst kid brother has no pain at all, there's no doubt about the hip dysplasia. The hip socket is much reduced in size, and the roof of the acetabulum slopes upwards alarmingly.
The range of motion of the hip is greatly increased, but only the test of Fabere was painful in the groin.
I spoke very directly to him, and his mother, about the need for a life-long regimen of exercises to strengthen the hip muscles. It is they, not the bony socket that keeps the hip in its place.
Follow the rules, and there's a reasonable chance this hip will behave. Break the rules and, like diabetes, it will be a nightmare. Hip arthritis and early hip replacement. Developmental hip dysplasia ...
Symptoms of arthritis in knee
As they are leaving, Dad asks: can you do anything for knee pain? He is very overweight, and his right knee is swollen, and he's obviously having difficulty straightening the knee whilst walking. Symptoms of arthritis in knee ...

Prostate cancer 
Did you know that a man who eats a tomato-a-day has 50% less chance of getting prostate cancer? So the future of my prostate is hopefully assured! Tomato prostate ... a recent consultation with a urologist revealed a PSA of 0,9; it's incredibly low.

What's more phytosterols are the cure for an enlarged and inflammed prostate gland. What are phytosterols ...?

Useful links
Do you have a question about your health?
Do you have a question? Shoot! Please include important details such as when the problem started, what increases and relieves the pain, which movements cause dizziness, for example, whether the pain radiates to all the fingers or just the thumb and forefinger, or just certain parts of the leg.

A two line question will get an answer of zero value.

About Dr Barrie Lewis DC
What Other Visitors Have Said
Click below to see contributions from other visitors.

Did you find this page useful? Then perhaps forward it to a suffering friend. Better still, Tweet or Face Book it.