CHIROPRACTOR Grahamstown PortAlfred Uitenhage Graaff Reinet

At chiropractor Grahamstown PortAlfred Uitenhage Graaff Reinet you'll find a list of your local DCs and the sorts of conditions they treat.
Traditionally, when you think of lower back pain, you may first consider manipulation; it is strongly researched as the most effective treatment, together with exercise.
But your chiropractor today can treat far more conditions; headaches, infantile colic and groin pain, for example; just to mention a few.

Paracetamol, also known as acetaminophen, is the drug most widely recommended in clinical practice guidelines worldwide for acute low back pain, yet there is little scientific evidence to back it; cynical DCs would describe that as a bit rich coming from the oft used description of chiropractic, by political medicine, as an unscientific cult, but I digress.

In a recent gold standard research project, the so-called double blind RCT, to test whether paracetamol is in fact effective, the Sydney Medical School, department of Pharmacy reported their findings in Lancet, 2014. 
Their findings make interesting reading. There found no scientific evidence that paracetamol improved recovery from acute low back pain, as compared to a placebo. The researchers looked at many factors; pain, quality of life, sleep and function or disability.
Add to that the fact that paracetamol is the leading cause of acute liver failure in Western countries.
It's because of the dangers of many medical practices in the treatment of lower back pain that chiropractic help is coming into its own.
Chiropractor Grahamstown PortAlfred Uitenhage Graaff Reinet

Chiropractor Grahamstown PortAlfred Uitenhage Graaff Reinet for the sorts of conditions that your doctor could help you with.

For the sort of condition that your Chiropractor may treat, and a list of where your nearest Chiropractor may be found.
---
Searching for something specific? Just type it in here:
---

Head Neck Pain

In the skull and cervical spine there are nearly 35 joints, including the jaw, each capable of causing significant head neck pain. Headaches today result in an enormous problem with absenteeism in the workplace, lost man hours, and costs medical insurance companies billions of rands. Chiropractor Grahamstown PortAlfred Uitenhage Graaff Reinet is one part of the solution.

Whilst the management of headaches needs to be a multi-disciplinary task, over 70% of them come from a problem in the neck. This could be due to a curvature of the spine that was poorly managed in childhood...
Certainly headaches could be coming from a cervical facet syndrome from trauma. Perhaps an untreated whiplash from a car accident or fall, sport trauma, or simply long hours in the office, spent surfing the net and playing computer games.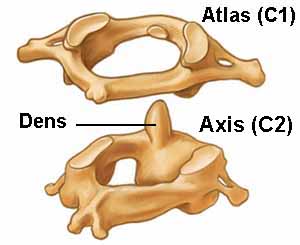 The jaw joints too make a massive contribution to migraine headaches that plague millions of people? Clicking, popping jaw, pain on the side of your head, perhaps radiating to the eye, nausea, flashing lights? TMJ ear pain? It could be your jaw joint that is causing your migraines.
The 'thunderclap headache' is a medical emergency. Sudden onset worst headache of my life - get to the emergency rooms quickly.
Rib pain treatment

The ribs are connected via three joints each to the spine, and one anteriorally to the breastbone. That makes 4 times 24 sources of pain in the chest, each capable of causing severe discomfort, especially with breathing. With acute, recent injuries, chiropractic rib pain treatment is amazingly effective; allowed to become chronic it can be very difficult.

After a flurry of sneezes, the sprung rib causes sharp pain with every breath. More commonly, when not treated it causes a deep ache between the shoulder blades.
A disturbance of the normal rhythm of rib movement in breathing also frequently causes disconcerting breastbone pain. Unheeded it turns into a Tietze's syndrome; a deep aching feeling in the chest. If it's on the left side patients often think they are having a heart attack. Referrals from cardiologist are becoming more common.
That chest pain wasn't angina after all, fortunately. And it's very treatable, as you can see from this Tietzes syndrome casefile.
Do you have a teenager in the house who is always slouching and complaining of backache? The solution may not be to command sit up straight, Jan, but the careful management of Scheuermann's Disease.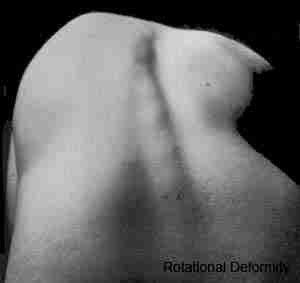 Slipped disc symptoms case file

Sixty percent of the average chiropractor's life is taken up with the management of low back pain, and sometimes it's a herniate disk. This slipped disc symptoms case file will give you some idea of what's likely to happen at the chiropractor.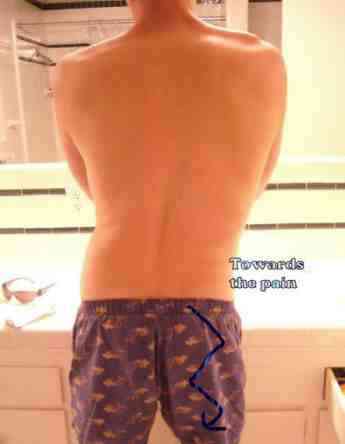 Sprained Ankle

Many chiropractors today have been to advanced courses in athletic injuries, called FICS. Colleagues are now are being called up to attend the Olympics and World Games for example, and many top sportsmen and women have their own personal DC. Three quarters of runners will have a lower leg injury each year, with a sprained ankle being near the top of the list. Chiropractor Grahamstown PortAlfred Uitenhage Graaff Reinet is where you'll get help.

Treating the badly sprained ankle, patello femoral pain, femoro acetabular impingement syndrome pincer are, for example, all now routine in the chiropractic office. If these conditions are not carefully managed, the hyaline cartilage in the joint invariably becomes arthritic.
---
Searching for something specific? Just type it in here:
---
LEECHES, or thoughts from COLIC CHIROPRACTIC RESEARCH?
Kate Pigot to Mrs. Newton, from Pigot Park, May 1826.
My dearest Grandmama,
"We kept Sophy's first birthday on the 13th of May, such a beautiful little girl as she is, daintily made with an abundance of gold hair curling over her head... she is not quite outgrown her early delicacy, whilst she cut her teeth her mother Sophia had cause for anxiety. By chance Dr Campbell at the Cowie that day and we called him in. He looked grave, spoke of possible water on the brain and prescribed a leech to the head, calomel and blue powder, Sophia to rub loaf sugar on the gums, and if necessary engage him to lance them. S. and me both of the opinion this treatment too harsh for a tender little child.
It so befell, a wagon came from Uitenhage with oranges for Mr. Cowderoy the customs office. Bertha recollected a recipe of her mothers for infusing orange leaves to comfort a baby's fevered gums. No orange trees at the Cowie, but some of the fruit had leaves attached, we made the infusion and applied it without reference to the Doctor! Sophy's tooth through not long after and she happy again."
Dark Bright Land by DM Fitzroy, a must read for Eastern Capers. (if you can find a copy)
Slow Food, made fast...

Most of us live busy lives, so healthy slow food made fast is probably high on your agenda. Tofu nutrition should be weekly on your menu. Cheap, high-quality protein that is ready to eat, literally, in minutes. Zero cholesterol, high in Omega-3 fatty acids that lower the undesirable LDLs whilst not lowering the healthy HDLs. TOFU NUTRITION, every woman's answer to opvliegers and other menstrual troubles.
It's disturbing that medical doctors will prescribe hormone replacement therapy, except in extreme circumstances, given that they are one of the main causes of CA; breast cancer and prevention is every woman's business.
Look for over-ripe cheap tomatoes, an onion, a couple sticks of celery and you have a delicious supper in 30 mins. What's more, it's the basic Fish Soup recipe, just add some salmon. TOMATO SOUP RECIPE, why shall EVERY man eat a tomato every day?
If you have high cholesterol, brinjal is a must, and there's no way to cook it faster and tastier than the old Lebanese dish Baba Ghanoush. I make it in 9 minutes. Delic! Baba Ghanoush ... the easy, delicious solution to high cholesterol.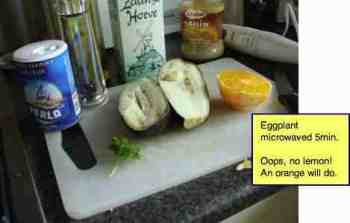 Did you find this page useful? Then perhaps forward it to a suffering friend. Better still, Tweet or Face Book it.