South African Pioneers
South African Pioneers of the chiropractic profession; do you recognise them? I would very much like to know their names.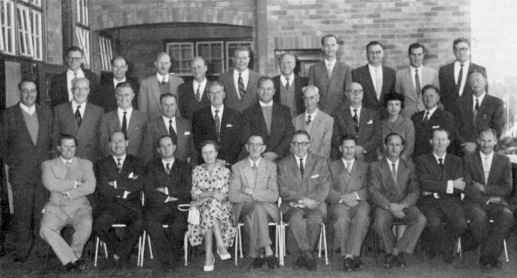 Early Chiropractors
These are the early chiropractors in South Africa.

1963: Can you name the the X's?
Back Row: (L to R) Dr Louis Brugman, Dr Dick Lewis, Dr Pierre van Zyl?, X, Dr Seb Braby, X, X, Dr Dave Heard, Dr Roy Skinner, X.
Middle Row:  Dr Jasper Smit, Dr Josh Haldeman, Dr Brian Peters, Dr Jimmy Ashwin, X, X, X, Dr Basil Peters, X, X, Dr Arthur Cracknell, Dr Len Fisher.
Front Row: Dr Jim Ashwin, Dr Stan Kibur, X, Dr Unity Lewis, Dr Bill Sligting , Dr Joseph Janse, Dr Andries Kleynhans, X, Dr Ian Nairn, Dr Hilton Taylor
How far back does Chiropractic go in South Africa?
The first Chiropractors and Osteopaths set up practice in the 1920's but nobody seems to know who they are. A Mrs Blythe Harrison reports that she fell out of a tree and couldn't walk until miraculously treated by an American spinal adjustor in Durban in the early 1930's, but who was he?
In arbitrary fashion, I suggest we set a date of those who established practices in South Africa, pre 1950 as our veterans.
Today's vibrant chiropractic profession in South Africa which boasts not one but two university level institutions preparing graduates for the nation, owes much to those pioneers.
Chiropractors who made great sacrifices to make it all possible for us today. We owe them much.
But who were these pioneers? What inspired them to take such a leap of faith? Where did they train and where did they practise? Many of you know the answers to these questions, so this page enables you to contribute. Please, tell us their stories, before they are lost for ever.
The art of manipulation goes back thousands of years, pre-dating even Hippocrates and Galen who used manual therapy avidly, knowing the importance of the spine in the management of health. It traces its way through the bonesetters of Europe, but it's well known that the Turkish and Pakistani people and almost certainly many others also used these techniques centuries ago.
Go today for a haircut in Istanbul and you'll probably receive a sitting cervical manipulation once the barber is done.
However, modern Chiropractic was founded by Daniel D Palmer in 1895.

South African Pioneers
South African pioneers of early chiropractors who paved the way in the face of vicious medical opposition for today's vibrant profession.
Dr Josh Haldeman
Dr Josh Haldeman is the father of the world's pre-eminent chiropractor, Dr Scott Haldeman. Dr Scott did his schooling in South Africa, trained in the United States as a chiropractor, went on to study medicine, qualified and practises as a neurologist, and is chiropractic's top researcher, widely respected in both the medical and chiropractic professions.
Journey of Scott Haldeman

Dr Jo Janse
Dr Jo Janse, president of then National College of Chiropractic in Chicago, was a regular visitor to South African congresses in the 1950's and 60's where he would be the guest speaker. He paid is own way, required no fee, only wanting a few days in Kruger to see the "bokke;" he was a Dutchman by birth.
Chiropractors like Len Fisher and Brian Peters accompanied him on these safaris.
Google appears to frown on too many links, so phrases in bold, like Scott Haldeman and Joseph Janse above, and what is chiropractic below, need to be put into the Site Search function in the navigation bar on your left if you want more information.

What is chiropractic?
What is chiropractic is a question you can probably answer; our South African pioneers certainly knew the answer. Read more at the link below.

LINKS
Have any info about the early pioneers?
Do you have any information about the pre-1950 Chiropractors? Please share it! We owe it to the profession to keep the memory of them alive.
What Other Visitors Have Said
Click below to see contributions from other visitors to this page...

Did you find this page useful? Then perhaps forward it to a suffering friend. Better still, Tweet or Face Book it.