General anaesthetic

General anaesthetic and Alzheimers finds there's a higher risk for the very young and elderly undergoing surgery; heart surgeons call it "by-pass brain."

Alzheimer's disease is a tragic development after a general anaesthetic. Almost everyone knows someone who sadly developed what was presumed to be 'Alzheimer's Disease' after surgery. Were they about to develop the disease anyway? Specialists are now acknowledging that the very young and the elderly are particularly vulnerable to "By-pass brain" after a general anesthetic.

---
"If you do a perfect operation, and you have someone who comes out with say a perfect heart, it's just heart-wrenching if you have a neurological dysfunction."
- Dr Aubrey Galloway, Chairman of cardio-thoracic surgery: New York University School of Medicine.
---
The New England Journal of Medicine reports that more than half of heart by-pass patients awake with cognitive dysfunction, ranging from a stroke to memory loss.
This page was last updated by Dr Barrie Lewis on 1st July, 2020.
General anaesthetic
General anaesthetic finds there's higher risk for the very young and elderly undergoing surgery.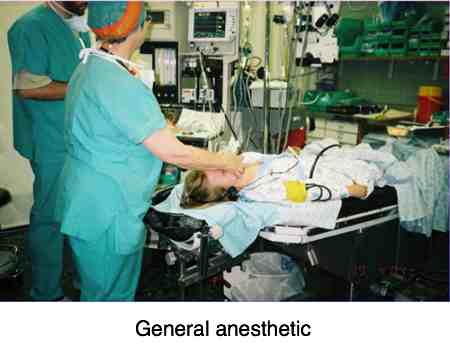 World congress of anaesthesiologists

The risk of permanent harm to neonates and the elderly from anaesthetic drugs was a hot topic at the World Congress of Anaesthesiologists in Cape Town early in 2008.
Professor Mike James

Professor Mike James, UCT head of general anaesthesia and co-chairman of the Congress Scientific Programme, said: "Evidence is emerging on how anaesthetic drugs might alter the functions of the brain in the very young and older patients, and that this may be permanent."
"This shows the need for more precise, better-targeted anaesthetic drugs," said James, who is also head of the SA Society of Anaesthesiologists.
As many as 10 percent of older patients run the risk of losing brain function after undergoing an anaesthetic and surgery.
Professor Duncan Mitchell
Emeritus Professor Duncan Mitchell, of the University of the Witwatersrand's Brain Function Research Group, said: "Every time you have an anaesthetic you lose neurons and since elderly people have fewer neurons, they lose proportionately more neurons."
Typically, patients recuperate fully from the operation but sometimes their cognitive function is impaired permanently.
THE OPERATION WAS A SUCCESS BUT SADLY THE PATIENT LOST HER/HIS MARBLES.
Professor Maze

Professor Maze said: "Elderly patients who go in for a hip or knee operation, for example, may be able to walk afterwards but not remember where they are walking to."
He believes this loss in brain functioning is induced by inflammation related to the surgery rather than the anesthetic itself.
A anaesthetic and surgery may be the catalyst that pushes vulnerable patients over the edge into Alzheimer's disease and short-term memory loss.
Have all the alternatives been explored?
Alzheimer's disease

Serious cognitive decline after a general anaesthetic, on the one hand, and Alzheimer's disease are really two quite different conditions. Yet to the casual observer they have much in common; short term memory loss.

---
Stones in my clog

Chiropractor Dr Bernard Preston tells in his book Stones in my clog how five years after a routine vasectomy a doctor confided that she nearly "lost" him during the general anaesthetic. Today, it's done under a local for this reason.
This delightful book of chiropractic anecdotes takes the reader on a tour of chiropractic in a different culture... in the polders of Holland. Available currently only as an ebook @ $2.99
As you can see from the cover and title, Stones in my Clog is a light book, written in fact in the James Herriot genre, yet serious issues are tackled.
Experience a different culture, walk with Preston as he makes his way through the polders, and minefields, of living and practising amongst an ancient and very different people.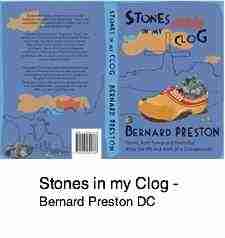 ---
Chiropractic help

Chiropractic help is obviously in the business of avoiding surgery, and a general anaesthetic. Sometimes it's to no avail, alas; some injuries are simply beyond the scope of repair by natural means, but often it's because of poor patient compliance. Folk find it impossible to take time off work after a slipped disc, or unable to discipline themselves to do the rehabilitative exercises.

IMPORTANT CONSIDERATIONS
On a personal note...
Having nearly lost my own life whilst undergoing a routine medical procedure (vasectomy) aged 35, I have more than a passing interest in the subject. Add to that the sudden onset of dementia in numerous patients after surgery, and it's my passion to save as many patients from the knife as possible. Good surgeons, I believe, would agree: explore the alternatives first.

A dear friend fell and broke his hip a few months ago; after the surgery that was successful, alas he just wasn't the same person, and still isn't it. Anaesthetics in the young and old in particular are quite dangerous.
Do you have a tale of woe about the detrimental affect of a general anaesthetic to tell? Or after a visit to the chiropractor? Do tell...
They are really not uncommon, and whilst surgery is often absolutely necessary, it's our belief in chiropractic that alternatives needed to be first sought whenever and where ever possible.
Have A Great Story About a visit to the Chiropractor?
Please only submit your question from a computer. I will not answer anything written in smartphone grammar.

I'm not looking here for funny stories. That we'll find a place for elsewhere, and you can find an abundance of them in my books at Bernard-Preston.com. James Herriott genre books.

Here I'm looking for things that you particularly love / hate about a visit to the chiropractor. Share it! If we get too many, and we probably will, we'll split them.

Are there things you hate about a Chiropractic consultation? Let's hear about it. Hopefully even more stories about things you love.

You see, we Chiropractors can learn from your feedback, both positive and negative.

Share it!
Did you find this page useful? Then perhaps forward it to a suffering friend. Better still, Tweet or Face Book it.