Tietzes Syndrome 
Breastbone pain
Keywords: Tietzes syndrome, chest pain, costochondral syndrome, rib pain treatment
Breastbone pain is a not uncommon complaint at the Chiropractic Coalface. In its severe form a swollen node appears at one of the breastbone joints: either with the rib, or the collar bone.
Tietze's-syndrome and costochondral syndrome were initially described as two separate conditions, the sole difference being the amount of swelling of the costal cartilages. Costo-sternal pain is commonly caused by this little understood, and generally poorly managed syndrome. It also affects the joint between the collarbone and the sternum. The SC joint.

Tietzes syndrome was first named by a German physician early in the twentieth century.
It is now recognized that the presence or absence of swelling is only an indicator of the severity of this syndrome.
Swollen Sterno Clavicular (SC) joint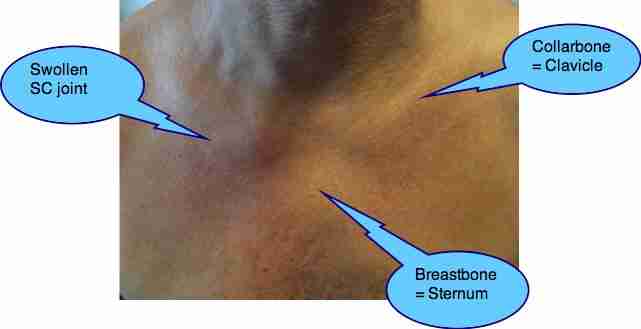 Can you please advise me. I have had pain for nearly 2 years in the rib, sternum, breast region, sometimes radiating to my mid back, right under the shoulder blade.
Also, I have had pain in my arm, with tingling in my fingers.
I can't lie in certain ways, I definitely can't lie on my front and twisting is a no no.
I can't lift things for any length of time.
It's seriously affecting my life that I'm so down every day and I have 3 gorgeous girls who are not seeing the best of their mum and I am suffering.
It's seriously affecting my life that I'm so down every day and I have 3 gorgeous girls who are not seeing the best of their mum and I am suffering.
I'm ok if I don't move but I can't go on every day like this, my daughters have health problems and severe skin conditions and I think years of doing their skin routine has over worked my muscles.
I've had scans and xrays, blood tests and nothing is showing up. I would just love a dianosis of something and a promise it will get better as I can't face life like this every day. Please can you help.
Any advice is welcome as I have the pain clinic at the hospital soon, and no one knows what to do with me. They are saying I'm a hypochondriac so I just shut up and persevere now.
---
Chiropractic Conditions is a central page at Chiropractic Help. It provides you simply and easily with the sorts of conditions that the average chiropractor would be treating.

Healthy Living Tips is another vital page at Chiropractic Help. Sparkling good health is not just about having your subluxations adjusted. Our healthy living tips page gives you some insights into different foods you could and perhaps should be eating.
---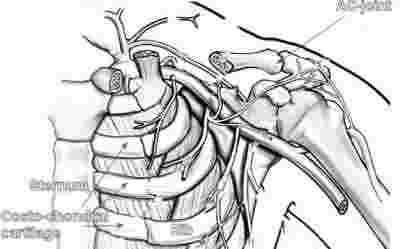 Tietze's Syndrome

Chest pain is commonly caused by a strain sprain of the joint between the rib and the sternum or breastbone. It is usually associated with pain along the course of the rib, and in the midback, but this is not necessarily the case.
You can easily test for Tietzes syndrome yourself: Press firmly on the breast bone, and then let your fingers slide right and left over the junction with the rib and between the ribs. It will be very tender over some of the joints if you have it, usually on one side only, more commonly the left, but it may be bilateral. It can also affect the breastbone collarbone joint, called the sterno clavicular joint in anatomical terms.
You are almost certainly not having a heart attack, though this should always be considered! It's name is the costo sternal syndrome, or costosternal syndrome, or the costochondral syndrome of tietze, or sterno clavicular syndrome of tietze and in its mild form is really quite common. Deep breathing may aggravate the pain, but does not usually, unless it is severe.
This is a common condition which responds well to the correct chiropractic treatment. I stress correct, as it took me over twenty years to work out how to treat this nasty painful condition, and, like me, your chiropractor might not know about it.
Whilst she he should be aware of it, it may be worth repeating, that a heavy adjustment in the middle of the back may well aggravate this problem. In fact it may cause it!
How do I know? Because I have caused it myself. It's known as iatrogenic or doctor caused disease. There's not a doctor alive who hasn't aggravated or caused some condition, I regret to say, including myself. That's why we call it a practice. Because that's where we practise the art of doctoring all day long, and you dear patient are the guinea pig. There is, I regret to say, no other way.
Your medical doctor too, I'm afraid, may have no clue. How do I know this? Because I treat so many people with it, and NSAIDs just don't work. Usually they have unsuccessfully done the medical rounds. Perhaps I am making an ass of myself by making such an assertion. I would be pleased to hear from any of you reading this who have been cured of Tietzes syndrome by anti inflammatory medication, without having got an ulcer.
Bone scan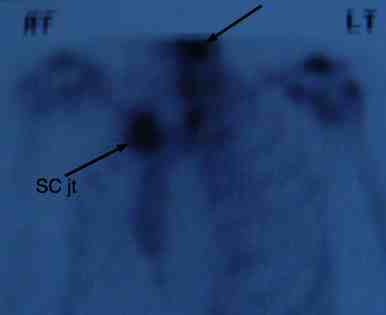 The increased uptake in the right sterno clavicular joint is immediately apparently. Of concern, also in the left shoulder and neck, however the radiologist assures me that those are the features of osteoarthritis.
Happily, within three weeks of chiropractic help the oedema and pain were gone. Worryingly, two weeks after discharge, she went to the gym, did weights and immediately developed acute radiating arm pain, but that's another story. The Tietzes syndrome is healed to all intents and purposes, and she is weighing prayerfully whether to go for neck surgery, or give chiropractic help a chance with the much more serious neck condition.
My worry; did my treatment of the Tietzes syndrome set off the severe neck and arm pain? She had had tingling in arm and hand for over two years, a failed carpal tunnel syndrome operation... She assures me not, as for two and a half weeks she had almost no pain in the neck, arm, shoulder or sterno-clavicular joint. Until she went to the gym and decided to become the next Miss World.
Honestly, I have my doubts. Chiropractic Iatrogenic Illness is a concern for every Chiropractor too. Doctor caused disease, the third most common disease on planet Earth.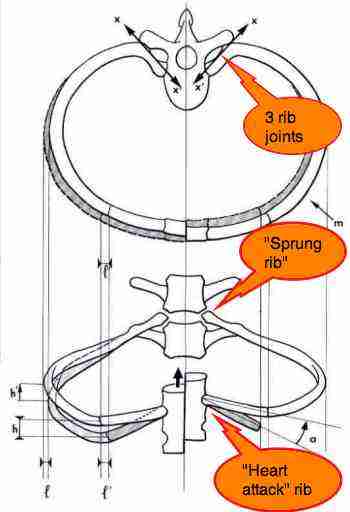 How does it present?
Costo sternal pain syndrome presents with chest pain, which may be acute, where the ribs meet the breastbone.
There is tenderness and may be some swelling of the cartilages adjacent to the sternum, which is commonly palpable on examination.
Although many times it can be extremely painful, to the point of being debilitating, Tietze's Syndrome is considered to be a benign condition that may, like many conditions, resolve in 6 to 8 weeks.
Tietzes syndrome pain is sometimes exacerbated by deep breathing, the pain radiating from the midback along the ribs to the sternum.
Costochondritis symptoms may be similar to and are often confused with the chest pain associated with a heart attack.
Sterno Clavicular syndrome of Tietze
Secondly, Tietzes syndrome may affect the first rib and/or collarbone, causing pain in the collarbone joints and, because the artery and nerves to the arm pass between the collar bone and the first rib, it may cause pain in the neck and tingling in arms and hands.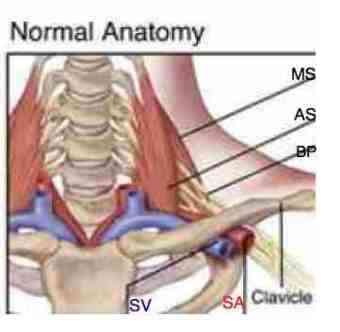 Because the diaphragm attaches to the lower six ribs, Tietzes syndrome is sometimes association with abdominal discomfort of one sort or another.
---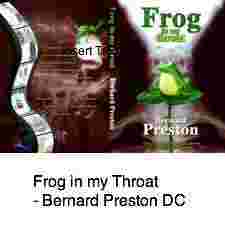 If you love to read, you will probably enjoy my first Chiropractic book of anecdotes, funny and healthful, Frog in my Throat ...
Says chiropractor Emma Maria Nygren:
"I am looking forward to your third book, Dr Preston. I really enjoyed reading Frog and Bats! They make you think, laugh and relax just like a good book should!"
For more information, click here. Frog in my Throat ...
---
What causes it?
Tietzes syndrome is often caused by a physical strain or minor injury, such as repeated coughing from a chronic chest infection, vomiting or a blow to the chest. I recently had a case where a young man was violently turned over on a water-slide, falling heavily on his fist whilst it was tightly clenched against his chest.
Costosternal syndrome of Tietze can also be caused by a heavy manipulation of the thoracic spine.
---
"I read your article on sternum pain and Tietzes syndrome this afternoon and would like to submit a question to CHIROPRACTIC HELP questions . I saw a chiropractor over the summer in June of 2008. I had pain in my neck and mid back. He gave me numerous adjustments over the course of several weeks, some with heavy force.
After some of my appointments I noticed pain in my sternum, something I'd never felt before. He said it might just be muscle related. I stopped seeing him as I felt he was a lousy listener and kind of arrogant. It is now January and I still have the pain in my sternum. Should I see a chiropractor? And if so, what should I look for so as to avoid getting yet more pain?"
---
REFERRED PAIN
Many conditions of course can cause chest pain. Heart, lung, midback, stomach, pancreas, gall bladder and liver, and no doubt others... it's a definitely a team job, but once the others have been excluded, a Tietzes syndrome certainly responds to the correct Chiropractic care.
Rare conditions such as Mesothelioma, a nasty lung cancer usually caused by exposure to asbestos, and greatly aggravated by asbestos plus smoking, should also be kept in mind if there is weight loss, malaise...
Mesothelioma Prognosis - Information on mesothelioma and the treatment options available. PleuralMesothelioma.


TREATMENT of Tietzes syndrome
The treatment of Tietzes syndrome remains something of an enigma. It is does not respond well to NSAIDs, and ultrasound doesn't help either. Massage of the muscles between the ribs may help.
This author acknowledges that he was unable to treat this condition successfully for 25 years. After many years of struggling with the treatment of rib conditions, he worked out a cure that almost always works, how quickly depending how much actual swelling there is of the joints. The pain go not go away completely, particularly if you've had it for months.

Heavy posterior to anterior PA manipulation usually aggravates the condition.
My treatment?
Alternating ice and heat (eg an ice cube in a hot shower)


Gentle

posterior to anterior chiropractic adjustments of the involved costo vertebral joints.

Examining the costo sternal joint to determine the fixation with inhalation and exhalation.
An adjustive technique which involves placing the doctor's hands along the rib, from the sternum to the spine, thrusting either cephalad or caudad depending on the fixation, counter to the breathing.
An activator treatment may help.
Soft tissue therapy of the muscles involved.
As always, the pelvis and neck should be examined and if necessary treated.
Because of the proximity of the breast tissue in the female, the doctor
The search this site function in the navigation bar on the left enables you to find stuff on this site.

Google has gone through an enormous shakeup in the last year, giving webmasters much grief.

Meantime, use that search function to find more information about subject material mentioned on the page where links have probably been removed.  There are over 360 pages at chiropractic help; it's become a veritable encyclopedia dedicated to better health.

discreetly removes his grip on the rib during the inactive phase of breathing. Asking the female patient to place her hand over the breast, and pulling the breast tissue out of the way gives her a modicum of decorum. I recommend that the anxious female patient should ask a family member to attend the treatment, certainly for the first consultation.
Usually there will be some improvement within a week or two, depending on how long the costosternal pain has been present. However it may take a month or more to resolve. Tietzes syndrome is definitely one of those conditions where patience may be needed. Like any chronic condition it may not resolve completely and require an occasional regular treatment from your chiropractor.
If your chiropractor has no clue, don't be irritable. I was such for 25 years. Suggest she he contact me.

Click on this link for more information. Costosternal anatomy.
Tietzes syndrome casefile
Anecdotes from a casefile have no scientific clout but they often reveal gems of truth. Also Costochondral syndrome aka Tietzes syndrome is a condition I see almost daily at the Chiropractic Coalface. It can be mild, and it can be extremely disabling if allowed to become chronic. Tietzes syndrome casefile.
Pleural Mesothelioma
Most of us know that exposure to asbestos is extremely dangerous. Because this disease is really quite rare (less than 1% of lung cancers) it is usually diagnosed late and the prognosis is poor. Few doctors ever see this disease.
Common symptoms are:
Shortness of breath (due to fluid around the lungs)

Chest pain (and hence on this page that concerns the chest)
Chronic cough
Weight loss
For more info go to PleuralMesothelioma.com ...

USEFUL LINKS
Have a question or story about Tietzes syndrome?
Something about breastbone pain to tell? Share it! If you suffer from indigestion and heartburn as well please tell us about that too.
What Other Visitors Have Said
Click below to see contributions from other visitors to this page...

How do I manage breastbone pain

How do I manage breastbone pain I've had this bump on my chest for over a year. My rheumatologist was concerned so I had a breast exam. This is when …
abdominal strain with breastbone and rib pain

Hello, Dr b, there's been a delay with scope appt. Should be soon. Blood work is fine at this time. Let you know. Thank you, Diane. Hello Diane, keep …
shoulder rib pain

Had an MRI on shoulder results sai rotater cuff tear tendinitis and some fluid around AC joint.would this cause breast area tenderness? Hello Diane, …
sternum problem

my rigth collar bone is bigger than the other i get this in exessive using of my arm. I had slight pain in the shoulder blade, arm and neck. I don't know …
Tietzes Syndrome

Tietzes syndrome I am an amateur boxer and was diagnosed with costochondritis in february of 2011. I rested 6 weeks like the doctor said and began training …
costocondritis / tietzes syndrome

TIETZES SYNDROME Two years ago was diagnosed with costocondritis by a medical doctor. I have been to two chiropractors during the last 18 months and …
COSTOCHONDRITIS? TIETZES SYNDROME

TIETZES SYNDROME HI THERE CAN YOU PLEASE ADVISE ME I HAVE HAD PAIN FOR NEARLY 2 YEARS IN THE RIB, STERNUM, BREAST REGION SOMETIMES RADIATING TO MY MID …
Tietzes Syndrome

Tietzes Syndrome Hi, I am a 21 year old male who has been an athlete and very active my whole life. For 2 years now I have been dealing with tense …
tietzes syndrome Not rated yet
I am a chiropractor in Georgia and recently a 55 yo female presented with acute onset sternal pain that occurred from a chiropractic adjustment that …
Tietzes syndrome costochondritis Not rated yet
Hi Doc, I am 52 yr old, healthy,active (live on a farm and ride and train horse) slightly overweight, married female who routinely sees my awesome Chiro, …
Rib subluxation or contusion Not rated yet
Rib subluxation or contusion as diagnosis from doctors The incident in question occurred early in the morning November 28, 2013, and it is now the …
Open Heart Surgery caused breastbone pain Not rated yet
After surgery i had major pain in the middle botton of sternum actually had to go to the er the pain ws so bad and just having a valve replaced and me …
ache in arm with dull chest ache Not rated yet
I'm 18 and have had shoulder muscle tension chest aches near breast bone area and aching in my wrist under arm thumb and elbow for about three months. …
Costo sternal pain Not rated yet
Costo sternal pain Doc: I just had a standard MD Physical. My standard MD told me that if he had 100 patients come in, my demographic, I'd be on …
tietzes syndrome mimic breast cancer Not rated yet
Tietzes syndrome mimic breast cancer I have all the symptoms of teitzes syndrome. however, I have had cxr, two bx, ct's. my md says it is stage 4 brast …
sternum rib pain with stomach bloat too Not rated yet
Dr.b I've been sending comments but don't know if u received them. I meant in last writing a hernia. Does tieze syndome cause stomach to swell or a hernia? …
sternum rib pain Not rated yet
Dr. B, hello its Diane, I meant to print ahernia last time I made a comment. I apologize for that. Just wandering if a hernia can cause swelling in stomach …
sternum rib pain Not rated yet
Hello, Dr b, it's Diane, I apologize for the misprint. I mean to write a hernia. I was just wandering. tieze syndrome could also cause stomach to bloat? …
tietzes syndrome Not rated yet
Tietzes syndrome I am a 19 year old female. My whole second rib is swelling.I guess its the second rib cause its below the collar bone.This started …
Tietzes syndrome Not rated yet
Tietzes syndrome I have swelling over 2nd costo-sternal joint on the right side. I also have some pain over that area but the pain is more of "on-off" …
Tietzes Syndrome Not rated yet
Tietzes Syndrome The pain is on my right side. It travels slightly down my neck. The pain is radiating to the side of my right breast. I also had …
Tietzes syndrome Not rated yet
Can this also include mid back nerve pain; feeling like it's pinched with what I call rib frez pain that you can not touch that area under the breast bone. …
Tietzes syndrome? Not rated yet
For years I have felt that I needed to pop my sternum, like when your fingers need to pop, but the pressure would build up so much that I would press my …
Swelling in arm pit and under collar bone. Not rated yet
Have swelling pain under arm rib cage and very swollen two lumps under collar bone and now it feels like thick ribs in breast too? Hello Diane, It's …
Fall down the stairs.. Not rated yet
This morning I fell down the stairs.. It happened pretty fast so I don't remember any of it but as soon as I realized what was happening I felt a sharp …
Tietzes Syndrome Not rated yet
I should first preface this by saying that I am currently a first year osteopathic medical student in the United States, so that automatically makes me …
Tietzes Syndrome - left chest and arm pain Not rated yet
I went to the emergency room last week for pain in the left of my chest and my left arm panicked that I was going to have a heart attack (which would be …
painless swelling, intermittent, at the steroclavicular and sterno rib 1&2&3 Not rated yet
Hi Dr. Barrie, I have the above symptom but no pain and swelling goes and comes. The swelling is neutralized with deep breathing......may be thru …
Tietzes syndrome after radical mastectomy & reconstruction? Not rated yet
I was diagnosed with breast cancer (BRCA1 Stage II - 2.5cm tumor in axilliary-breast area) at the tender age of 28 while I was 20 weeks pregnant. I underwent …
Tietzes Syndrome Not rated yet
When my 2 oldest children were small (& I still smoked occasionally) I suddenly one day sitting & laughing on the couch with 1 of them developed ingratiating, …
tietzes syndrome Not rated yet
I had tietzes syndrome in 1998. florida hospital got 5 doctors together and said i had tietzes syndrome. they gave me indocin at 25 mg for 3 times a day …
I do have a histroy of gastrointestinal issues. I am taking 2 capsules of dexilant per day and was diagnosed with a hiatal hernia last year. Not rated yet
I went to my chiropractor to be treated due to mid back pain between my shoulder blades. The last time he gave me treatment, he lifted me and adjusted …
Tietzes Syndrome Not rated yet
Mm, not sure that pulling your leg would affect your ribs, but obviously something did. I'm uncertain about that "pop" in your chest, it's possible it …
I think I may have Tietzes syndrome how do I tell my Dr. Not rated yet
My symptoms started ten yrs ago after a car accident, I have had 5 ekg's because when a big man goe's to the E.R. with left chest pain thats what …
Tietzes Syndrome Not rated yet
Tietzes syndrome Hello Mitchel, Is there any swelling, like a swollen nodule where the rib meets the breastbone? If you press on this area is it VERY …
tietzes syndrome / breastbone pain Not rated yet
tietzes syndrome / breastbone pain my pain started with a loud pop in my chest. so loud i thought someone had shot me. that was a year ago. i am still …
no pain Tietzes syndrome Not rated yet
Tietzes syndrome So my question has to do with the lack of pain ive been having. I have swelling of the sternoclavicular joint or the costochondral …
Diagnosed with Tietzes Syndrome - not quite sure... Not rated yet
I have been diagnosed with Tietzes Syndrome after much in the way of testing..I could have sworn that my gall bladder was to blame, in that I exhibited …
Tietzes syndrome and bulging discs Not rated yet
Tietzes syndrome and bulging discs I have bulding discs from c2 to c7 and Tietze syndrome,my pain meds help my back ,but do not touch my rib cage,i …
TIetzes syndrome Not rated yet
Dear Dr. Lewis Is it possible to have this deep in the left sternum, not feeling it just chronically there like a knife in my chest at certain stretches …
Pressure in my chest Not rated yet
I have been seeing a Chiropractor 3 days a week for over 3 months. He at first told me that I had lost the curve in my neck and that I had some arthritis …
Did you find this page useful? Then perhaps forward it to a suffering friend. Better still, Tweet or Face Book it.