Inspirational books chiropractic

There are not a great many titles to be found in the inspirational books chiropractic section, but we have managed to winkle out a few for you.
Bernard Preston

Dr Bernard Preston's life has been steeped in the profession. Son of two chiropractors, a daughter who is a DC, after thirty-six years in practice he is well qualified to write about the art and science of adjusting the joints of the body.
These popular light books, written in the James Herriot genre (JH is a veterinary surgeon, writing for the animal loving world), will find a place on anyone's bookshelf who loves books that make you laugh and help you relax, but also wants to find out more about chiropractic. 
Said one fan: "I am looking forward to your third book, Dr Preston. I really enjoyed reading the Frog and Bats! They make you think, laugh and relax just like a good book should!"
Emma Maria Nygren
Dr Preston has published six books, three relating to Chiropractic:
Frog in my Throat
Bats in my Belfry
Stones in my Clog
You will no doubt gather from the titles these are light bedside reading for those looking for easy inspirational books Chiropractic that tell the often amusing, but sometimes tragic stories behind the people who consult the chiropractic profession; medical doctors too.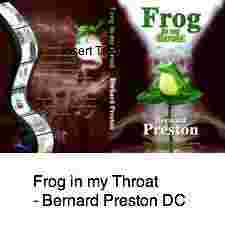 Frog in my Throat is currently out of print. However, it will be soon available as an Ebook. Tracing the early professional life of a young Chiropractor, it follows the ups and downs of practising illegally without a licence, under constant threat of being closed down.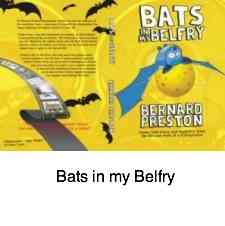 Bats in my Belfry is available in hard copy and as an ebook at a fraction of the price. $2.99. It follows the maturer Preston in the struggle to get on top of managing the many difficult syndromes faced in the chiropractic practice. There's a lot more to good spinal health than cracking a few bones.

Stones in my Clog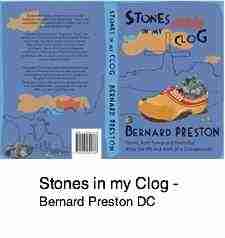 Invited to join a busy practice in Holland, Bernard Preston introduces us to an amazingly different people from the southern polders in the province of Limburg in Stones in my Clog.
But they suffer from the same problems as all creatures who walk upright. SacroIliac joint pain, headaches and tingling in arms and hands.
Introduced to a new technique to manage vertigo, Preston finds himself on national TV; in distressing circumstances. It's only available as an ebook.

A patient in acute pain is assisted to his adjusting table by a man Preston assumes is her husband. Her partner, yes, but no, Jan II is not her husband. The parish priest, yes.


For only $2.99 on your smartphone, tablet or Kindle you can enjoy these light and inspirational stories, always with a twist, the bizarre and sometimes, in chapters like Blood Diamonds, downright painful; Preston treats a gun runner.

Fabrizio Mancini
Dr Farbrizio Mancini, president of the Parker College of Chiropractic, has proved an able administrator and inspiring leader in the profession. He is well qualified to write stories for Inspirational Books Chiropractic.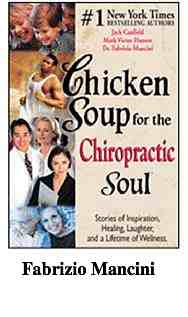 ---
"Truth, like surgery, may hurt, but it cures."
- Han Suyin
---
WARREN VAN ZYL
Many celebrity sports men and women have used Chiropractic treatment to prevent injury and to enhance performance.

Dr. Warren van Zyl uses these celebrity examples and those he has personally been involved with to highlight the valuable role Chiropractic can play!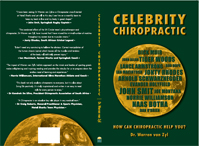 "This book not only explains chiropractic to everyone, but it is also about living life positively. It is truly inspirational and written in an easy to read style for every person to enjoy." - Dr Kendrah Da Silva, President, Chiropractic Association of South Africa.
Inspirational books chiropractic
Inspirational books chiropractic are easy bedside volumes shaped to inspire you towards better health; they should make you think, laugh and relax; perfect stories to put you to sleep. 
Athena's gift
If you enjoy reading, and have an interest in the benefits of olive oil, you will enjoy this short story. Click here, and scroll down for Athena's gift.

Six Golden Chiropractic Rules
SIX GOLDEN RULES FOR CHIROPRACTORS is an attempt to see things from the Chiropractic patient's perspective.
Dr Robert Lamberts, MD has revealed that there are a great many patients grossly dissatisfied with their medical doctors for one reason or another. Research has clearly shown that Chiropractic patients are a good deal happier. Totally happy? Certainly not. Can Chiropractors learn something from the Lamberts experience?

Did you find this page useful? Then perhaps forward it to a suffering friend. Better still, Tweet or Face Book it.