severe pain in left shoulder and arm with tingling in fingers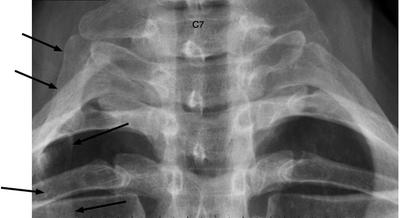 cervical rib
Severe pain in left shoulder and arm with tingling in fingers


What could this be that leaves me in so much pain in my left shoulder blade and goes down my left arm that hurts in the upper left arm and comes down to my left elbow and down my arm to my fingers that leaves it tingling. I also have what feels like muscle spasms in my upper chest just the left side.

Dr. Barrie Lewis
Hello,
There are unfortunately several possibilities, from a slipped disc in the neck, to a first rib subluxation or a "cervical rib" that is affecting the group of nerves going down the arm.
Two important questions: which fingers are affected, and secondly does raising your arm increase or decrease the tingling in the arm?
As you can see the T1 dermatome from the lower neck can cause chest pain too.
On the left side, a heart condition needs to be ruled out.
Dr B
Go from severe pain in left shoulder and arm with tingling in fingers to Chiropractic Help home index page …
Find a good chiropractor
may be your next step.
I hope this has contributed.
Dr B
Join in and write your own page! It's easy to do. How? Simply click here to return to Chiropractic help Questions (General).
Did you find this page useful? Then perhaps forward it to a suffering friend. Better still, Tweet or Face Book it.