Atlanto Axial joint anatomy


(Keywords: Atlanto Axial joint anatomy, chiropractic help, whiplash research, cervical facet syndrome)
This page provides information on a joint that is hugely important in the treatment of headaches, dizziness and severe neck pain.
The Atlas (C1) is the first bone in the neck. It is quite unlike any other bone in the body - it is simply a ring, with facets above and below which articulate with it's nearest neighbours - the Occiput above, and the Axis (C2) below.
The Axis (C2) too is quite unique. It is not unlike the other neck vertebrae, except that it has peg (called the Dens) jutting straight upwards.
The Atlas rotates on this Dens, giving the neck about 50% of its rotation.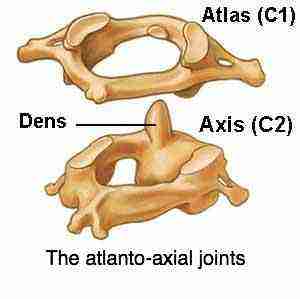 The Japanese call the axis the "Little Buddha". Without too much imagination, you can see why.
---
Chiropractic Conditions is a central page at Chiropractic Help. It provides you simply and easily with the sorts of conditions that the average chiropractor would be treating.

Healthy Living Tips is another vital page at Chiropractic Help. Sparkling good health is not just about having your subluxations adjusted. Our healthy living tips page gives you some insights into different foods you could and perhaps should be eating.
---

The Spinal Cord @ Atlanto Axial joint anatomy
The spinal cord, perhaps the most sensitive tissue in the body, passes down through the Atlas and Axis, carrying vital information to and from the body. Because of this intimate relationship in the Atlanto-Axial Joint anatomy, subluxations of the Atlas have a profoundly negative effect on the body. Whiplash almost invariably leaves its mark on the atlanto axial joint anatomy, hence today there is much whiplash research being done.
Belt up, don't drink and drive, slow down...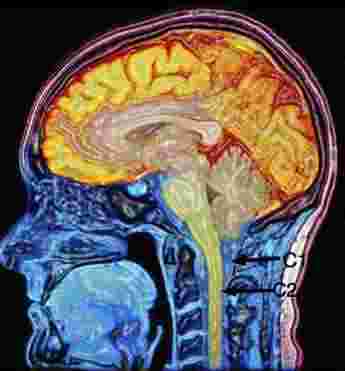 Read more about the effect whiplash research may have on your choice of treatment for your neck pain. WHIPLASH RESEARCH ...
Facet Joints and the CERVICAL FACET SYNDROME
There is no disc between the Atlas and the Axis. Thus the facet joints, and numerous ligaments of course, provide the only stability between the two bones causing a facet syndrome. Early chiropractors, known for a reason that escapes me as 'hole in one', adjusted only the atlas. If you consulted him/her with low back pain, only your atlas would be adjusted. Newer findings confirm that there is an intimate relationship between the Atlas and L5, the most common cause of low back pain.
The Greater Occipital nerve
This nerve emerges between the Atlas and the Axis, and supplies the base of the skull, the so-called Occipital region. Irritation of the Greater Occipital nerve is probably the most frequent cause of headaches located at the top of the neck, especially the C1-C2 or Atlanto Axial joint anatomy. It's an area that chiropractors specialise in.
Safety: Stroke Chiropractic 
Just how safe is manipulation of the upper neck? Are there dangers? Could you have a stroke?
There simple answer is yes, there are dangers. Having said that, the chances of you having a stroke chiropractic episode are so slight that you can to all intents ignore it. Depending on which research you read, about 1 / 6 000 000 manipulations will cause a serious injury.
Search this site function enables you to find stuff on this site.

Google has gone through an enormous shakeup in the last year, giving webmasters much grief. It's meant inter alia a huge amount of work removing links, capital letters, bold, italics, inverted commas, hyphens, and much else. The result is very little new creative writing whilst we bow before google's wishes.
In the long run it may mean a better web experience for you, though it's being done with advertisers in mind. Meantime, use the search function near the top of the left column to find more information about subject material mentioned on the page, where links have probably been removed.

Ever seen the Kidney Olympics? You'll quickly realise the dangers of swallowing bucket loads of pills for your headaches is far, far, far more dangerous.
In thirty years of Chiropractic, not one patient has (touch wood!) had a stroke. That's somewhere approaching half a million manipulations of the neck. One elderly lady had a TIA a week after treatment... almost certainly unrelated... and in any event recovered completely, and still consults me once a month.

Another option, far better than pills is to consider the benefits of massage therapy. An occasional, but regular massage will do wonders for your neck pain. Benefits of massage therapy ...
---
Searching for something specific? Just type it in here: 

---
Atlanto axial joint anatomy and the jaw joint
The sensory nucleus of the nerve that supplies the jaw joint - the largest of the cranial nerves - is located in the upper neck. Very frequently folk with popping, grating, painful jaw joints, also suffer from upper cervical pain, migraine and severe facial pain.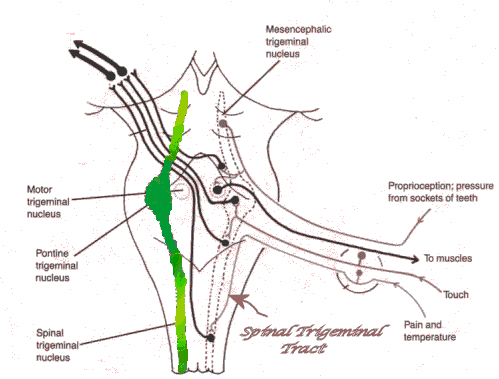 Good nutrition

Don't underestimate the influence of diet on your neck pain. Firstly, 60% of the brain itself is made of fat, half of which is based on the omega-3 fatty acids. The fats found abundantly in fish, flaxseed and walnuts, and to a lesser extent pecan nuts.
Secondly  there is heaps of research showing that the omega-3 fats have a vital role to play in the management of arthritis in general, and in this instance, arthritis in the neck.
Even more important is the omega-6/ omega-3 ratio in your diet. If you're into seed oils like corn and sunflower oil, soybean oil, and have no knowledge of fish oil and olive oil benefits then there's a good chance you would benefit from the thoughts of this heart surgeon on foods to reduce inflammation ...

Thirdly, all nerves are coated in a fatty myelin sheath that is predominantly oleic acid, the fat found abundantly in olives and avocados.
Neck pain? When last did you eat
A long, long time? No wonder you have neck pain!
Important considerations @ Chiropractic Help
Have A Great Story About a visit to the Chiropractor?
I'm not looking here for funny stories. That we'll find a place for elsewhere, and you can find an abundance of them in my books at Bernard-Preston.com. James Herriott genre books.

Here I'm looking for things that you particularly love / hate about a visit to the chiropractor. Share it! If we get too many, and we probably will, we'll split them.

Are there things you hate about a Chiropractic consultation? Let's hear about it. Hopefully even more stories about things you love.

You see, we Chiropractors can learn from your feedback, both positive and negative.

Share it!
What Other Visitors Have Said
Click below to see contributions from other visitors to this page...

Did you find this page useful? Then perhaps forward it to a suffering friend. Better still, Tweet or Face Book it.