Atlanto Occipital Joint

Keywords; atlanto occipital joint, Grays anatomy, headache chiropractic, symptoms of whiplash.
It's the uppermost joint in the neck.
The bone that makes up the base of the skull is called the Occiput. If you place your hand on the back of your neck, and slide it up, those first boney protuberances you feel are the occiput.
The first bone in the neck is called the Atlas. It's really just a ring.
So the joint between them of course is called the Atlanto Occipital joint. It's where the nodding action of the head occurs.
Structurally, it requires some very demanding engineering features. It has to be extremely strongly bonded, or else the head would fall off the neck the first time a person experienced some trauma. Not good. This is achieved with very powerful stiff ligaments, and equally strong but flexible muscles.
Here you can see it on an xray. Fearfully and wonderfully made.
There were several exclamation marks above but Google doesn't approve of them, so out they came; it makes the sentences rather droll; apologies. One must appease the internet god, other wise he zaps your site.
The spinal cord passes through a hole in the base of the occiput, called the Foramen Magnum, and down through the large hole in the Atlas. This is a cross sectional view, as seen from below, looking up at the skull, through the overlying atlas and Foramen Magnum. All sorts of interesting structures have to pass through that hole.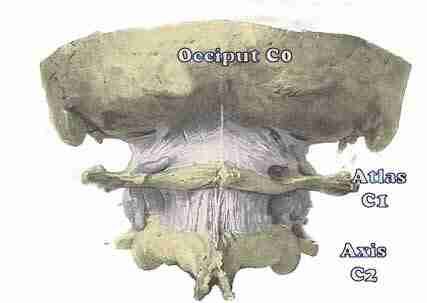 For example, two very important arteries wind their way up inside the spine, and make their way through the Foramen Magnum too.
They supply the posterior part of the brain and the balance organs in the inner ear.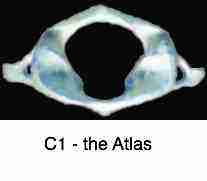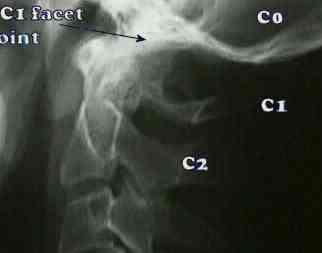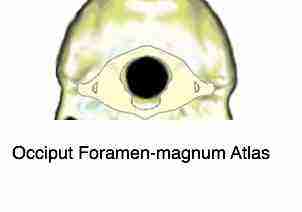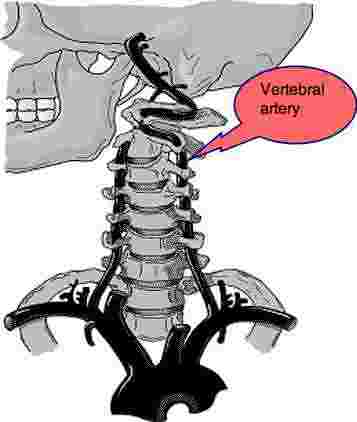 Joints and Headache Chiropractic
Strongly bonded but this region must also be fully movable, so it has to have a joint. Two, in fact. The joint surfaces are covered with very hard cartilage that fortunately doesn't usually become arthritic. But they can become jammed up, or fixated as we call it. Then the neck becomes very stiff, and headaches often start.
The sensory nucleus of the largest cranial nerve, the Trigeminal, which supplies the jaw joint, sinuses, teeth, gums and face lies in this upper part of the neck.

Consequently, oddly, jaw joint pain, sinus pain... is often felt in the upper neck either as well as said jaw joint pain, or instead of it. This is very confusing sometimes for both the clinician and patient. Is this atlanto occipital joint pain, or is it referred from the TMJ anatomy? Or, both? I now routinely do a quick assessment of every patient with upper cervical pain.

If you have upper neck pain, and a popping jaw, pain in front of the ear or facial pain it is imperative that you tell your chiropractor. The problem may not lie primarily in your neck at all.
This jaw joint can also cause blinding migraine headaches and very severe facial pain.
Facet Joints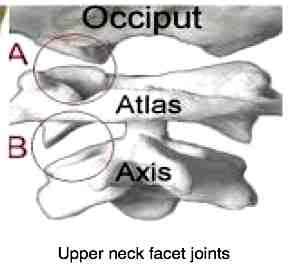 In due course, I'll add a page on the muscles of the region. They too are vitally important in the management of
Symptoms of whiplash 
For those who survive whiplash there are a myriad of symptoms of whiplash from very severe symptoms (paralysis) to quite minor irritation (occasional headaches). Others include lack of concentration, dizziness ... Read more: SYMPTOMS OF WHIPLASH ...


Prevention
Prolonged flexion of the occiput on the atlas, the nodding action, as in reading a book on a flat desk, places the suboccipital muscles under ongoing stretch. Devices such as this simple mobile desk are a must for every student, teacher, accountant ... in my view no home should be without at least one.
At a cost, delivered, of about three chiropractic consultations, it will pay for itself with weeks. 

If you spend long hours at the computer then intermittent ergonomic exercises are vital if you want less upper cervical joint pain, and general backpain and arm pain ...
VERTIGO @ atlanto occipital joint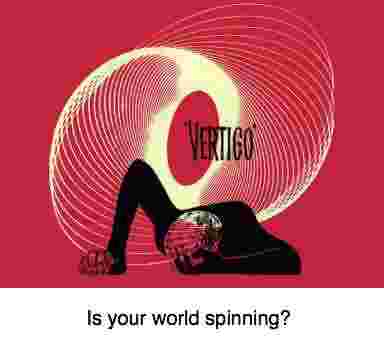 Vertigo is a nasty condition that gives one the feeling that the world is spinning. It can be mild, a sudden feeling of dizziness when the head turned that last a few seconds only, but it can be very serious causing one to vomit repeatedly.
During an attack one has the distinct sense that your eyes are spinning, even if you close your eyes. And so they are. The careful observer will note that the eye are moving in a specific fashion depending on which canal is affected; it's called nystagmus and lasts from a few seconds to a minute or more.
The most common cause is debris forming in one of the canals in the inner ear causing a condition known as benign positional paroxysmal vertigo. The good news is that bppv responds very quickly to a series of careful movements of the head called the Epley maneuver a course for your chiropractor.

How long does vertigo last? If the cause is bppv, and it's estimated to be 70% of cases of vertigo, then usually not long, often ceasing with a few minutes after the Epleys are done. But an infection in the inner ear, or Meniere's syndrome can cause the vertigo to last much longer.
Another cause is a subluxation of the occiput bone, and a gentle chiropractic adjustment is the treatment of choice. However, it should not be done until BPPV has been ruled out using a test known as the Hallpike Dix test ... or if you are showing signs of an upper respiratory tract infection. In these cases a Chiropractic adjustment can make the vertigo worse. It's generally agreed that medicines, other than antibiotics if you have an infection, have little or no place in the treatment of vertigo dizziness ...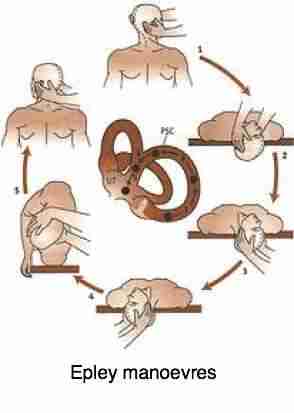 The Epleys should only be done by a person trained in their use. Ask your chiropractor if s/he has done a course on the Epleys if you are suffering from vertigo. They should be done BEFORE the atlanto occipital joint is adjusted (and NOT on the same day).

GRAYS ANATOMY

Henry Gray was a truly gifted man. A qualified medical doctor, Gray was also an exceptional artist. He was the first to make a text book that would become the standard text for medical students for generations. Read more about this remarkable man.
USEFUL LINKS
Have A Great Story About a visit to the Chiropractor?
Please only submit your question from a computer. I will not answer anything written in smartphone grammar.

I'm not looking here for funny stories. That we'll find a place for elsewhere, and you can find an abundance of them in my books at Bernard-Preston.com. James Herriott genre books.

Here I'm looking for things that you particularly love / hate about a visit to the chiropractor. Share it! If we get too many, and we probably will, we'll split them.

Are there things you hate about a Chiropractic consultation? Let's hear about it. Hopefully even more stories about things you love.

You see, we Chiropractors can learn from your feedback, both positive and negative.

Share it!
What Other Visitors Have Said
Click below to see contributions from other visitors to this page...

Miracles Not rated yet
My name is Kathy. I have been in pain for 27 years. My pain is in my teeth, nose and palate. I also have constant headache. I have been to every specialist …
My chiropractor really cares about me Not rated yet
Thank you for your informative newsletters! I'm not in the best of health and have been going back to my chiropractor for cervical/occipital nerve …
Did you find this page useful? Then perhaps forward it to a suffering friend. Better still, Tweet or Face Book it.