SHOULDER ABDUCTION RELIEF
(SAR)
(keywords: shoulder abduction relief, pinched nerve, chiropractic help, arm pain )

NECK AND ARM PAIN
 Does placing your hand on your head relieve your arm pain ..?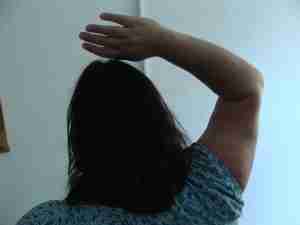 Abduction? Simply raising your arm at the side of your body. Abducting the arm, and placing your hand on your head takes the stretch off the nerves running from your neck to your arm. There are five of them, called the Brachial Plexus. If you have a pinched nerve, then this will RELIEVE the pain in your arm.
If placing your hand on your head INCREASES the pain in the arm, then you probably have a SHOULDER ANATOMY problem, a frozen shoulder for example, or another condition where the nerve and artery can be affected in the INTER SCALENE TRIANGLE ...
AGGRAVATE -VS- RELIEVE

More usually, shoulder abduction will aggravate the pain your arm and shoulder. Then it's NOT a pinched nerve.
The pain from a pinched nerve in the neck may be very severe, a deep numb ache in the arm, often worse at night. The only position to gain relief may be to place your hand on your head, or sleep with your arm under your head.
This is a serious problem. It's best to get to your chiropractor as soon as possible.
SLIPPED DISK
Some understanding of the anatomy of the neck will help your understanding of this nasty condition. NECK PAIN ... The nerve can also be irritated by a first rib subluxation, a slipped disk in the neck, arthritis in the neck, and other conditions like a cervical facet syndrome. Mostly chiropractic is the treatment of choice. Traction may also help as an adjunctive treatment, though the research indicates that on its own traction is not effective.
Again, raising your arm will INCREASE the pain and tingling in your arm. The condition is called a THORACIC OUTLET SYNDROME ...
UPPER LIMB TENSION TEST

The confirmation of a true pinched nerve is done in part with a test called the Upper Limb Tension Test that you can do at home. However, be warned, the diagnosis and interpretation of tests can only be done by a skilled clinician. Your chiropractor! Upper Limb Tension Test ...


Having said that, a true slipped disk in the neck sometimes requires surgical intervention. But in our admittedly biased opinion, always try conservative treatment first.
CERVICAL COMPRESSION TEST
The Cervical Compression Test is another test used to confirm the SAR PINCHED NERVE sign: is this truly a pinched nerve? Watch this spectacular way of performing this test. Don't miss it ... and watch to the end. You won't be sorry, I promise! CERVICAL COMPRESSION TEST ...




IMPORTANT CONSIDERATIONS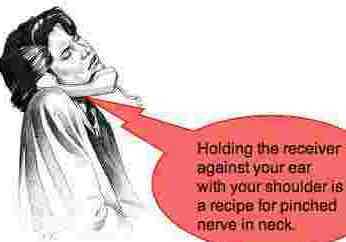 Upper back pain
If the C5 nerve root is affected then deep upper back pain is often the result, mediated via the Dorsal Scapular nerve, and tingling and pain the outer upper arm.

Did you find this page useful? Then perhaps forward it to a suffering friend. Better still, Tweet or Face Book it.