Dear


Why you should always consult a chiropractor after a whiplash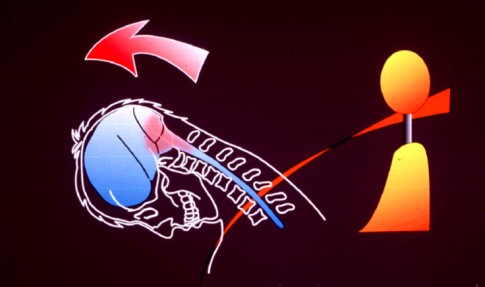 An interesting case
It's not often that I am unable to adjust a neck.

Mr S, a 44 year old man has been consulting me for the last four months, referred by a local Physical Therapist, complaining of severe stiffness in the hips and the neck. His hips were not painful, but his neck was very sore, with tingling in his left arm.

My first thoughts were that the two conditions were related, however further investigation, suggests this is not so.

Stiffness in the hips usually suggests the early onset of osteoarthritis, however careful examination and x-ray analysis reveals that he has a condition called Femoro Acetabular Impingement Syndrome, which has responded particularly well to Chiropractic treatment.
---
---
Not so his neck which remained extremely stiff, particularly coupled rotation and lateral flexion to the left. Another chiropractor and the Physical therapist had equal difficulty.
The Uncinate Process
In most of the spine there are three joints between the vertebrae. However, in the lower neck, there are two more. The so-called Joints of Luschka, also known as the Unco-vertebral Joints.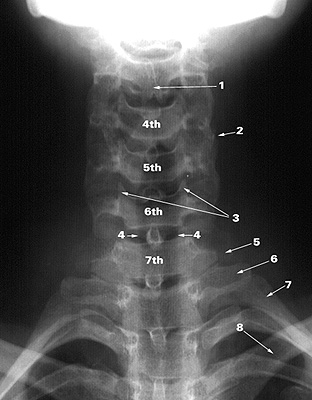 Notice here two tiny spikes, labelled 3. Those are the Uncinate Processes. There are two, one on each side of the neck, immediately adjacent to the foramen where the nerve emerges. They fit into a groove in the vertebra above, making the Joint of Luschka.

See the little U for Uncinate below. Not very clear, but it's showing signs of arthritic change.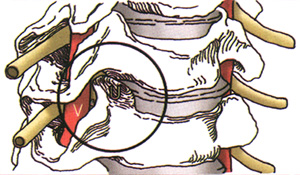 What is interesting is that he recalls minimal pain after a motor vehicle accident 15 years previously. His neck got a severe jolt, a whiplash you might say, and was a bit stiff the next day. There was no real need to consult anyone, and certainly nothing to indicate that he should be x-rayed.

The Uncinate Process can be fractured in a whiplash, but this obviously was not the case. He would have had severe pain.

What actually happened at the time was that two joints in his neck became fixated by the injury. (Well, that's speculation, he may have had other injuries too, though he recalls nothing.)

Then, because the joints were starved of nutrition, what anatomists call Immobilisation Arthritis started to set in.

The dotted lines outline a normal Uncinate Process. Notice how the arthritic Uncinates are invading the foramen from which the nerve emerges.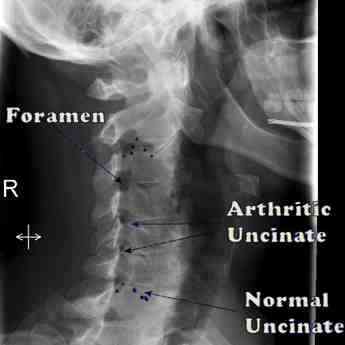 What's to be done?
What should have been done at the time was a loosening up of those fixations after the trauma. But he didn't know better, and we chiropractors are not very good at getting our message across, and medicine pooh-poohs it.

Now it is very difficult. A middle aged man needlessly has a very stiff neck. The tingling has stopped, and the pain he says is about a half of what it was, but I can only see trying times ahead.

An ounce of prevention ...
Exercises
He is now doing what I call the Neanderthal Man exercises. Sit deep in a chair, and retract your head and neck, slightly dropping the chin. Be careful not to look up, or extend the neck.

Then, keeping your chin on the same plane, protrude your head and neck forwards. Don't look down, nor up, straight ahead. Keep your back against the chair.

Repeat.

Plus I have given him other stretches that are difficult to explain.
Tip
Wear a seat-belt, research definitely shows they make a difference, and if you know an accident is coming, research also shows that bracing your neck and body does help. This in contrast to what we originally thought.

DONT DRINK AND DRIVE. PLEASE, DON'T!! Some of this, I believe could have been prevented, but every whiplash leaves it's mark on you. And on any innocent person you may ram!

Read here more about Whiplash Research
---
Love to read? Want to learn more about Chiropractic in an easy to read setting? Bernard Preston is having a Christmas sale. Both Chiropractors and their patients love his books. Buy one now, and give it to your chiropractor for Christmas. Win-win.

Click on the picture.

---
Nutritional corner: PARSLEY
Parsley is supposedly the most used herb, but I suspect most of it is used as a garnish, and goes to the trashcan.

It is particularly rich in Vitamin K, and thus useful for people who bruise easily.

And it makes the most delicious scrambled eggs. Wash and finely chop a couple parsley stalks. Scramble up some eggs, and spread the parsley over the eggs just before they are done.

Delish!

Eggs are of course high in cholesterol, and need to be used in moderation. See the effect of Exercise on Cholesterol




Until next month then. Promise not to fill your Inbox with information overload.

Should you have found this email helpful, feel free to forward to family and friends.

Yours in Better Health,