Dear


---
Swapping Chiropractors
Greetings again from Chiropractic Help.
Under what circumstances might you consider swapping chiropractors? Perhaps you just don't click with him or her, or you feel you have not had a proper examination. Is he the best chiropractor in town, but has got so busy that he's exhausted and his care is no longer up to scratch?
Has he recommended a course of treatment that will mean you have to mortgage your home?
Are you not improving, or even getting worse with his care? Just when is the right time to consider changing chiropractors?
In a practice with several chiropractors you might consider swapping chiropractors depending on your condition. One might specialise in the treatment of foot pain, whilst another in more knowledgeable about jaw joint migraine headaches. Swapping chiropractors shouldn't be a problem.
In recent months we have changed the format of this newsletter, and I'm referring you to a new page at Chiropractic Help. It's called Changing Chiropractors; full of thoughts about when you need to make a change.
Traffic
May has seen a surge in website traffic to new heights, now approaching a third of a million pages read every month.
With almost 400 pages, navigating your way around Chiropractic Help is difficult to say the least. I get lost myself! Use the Search function in the navigation bar on your left to see if there is information on slipped discs, or hip arthritis, or jaw joint pain; the virtues of omega-3 and where it's to be found; whatever you are interested in.
Butter is Back
Finally the penny has dropped and new research confirms what we all know; margarine is horrible and butter is delicious and no less healthy.
Summer veggie garden
Summer and it's definitely time to make sure you've got a row of green pole beans in your garden. A few lettuce plants and a row of Popeye food is always healthy; give them plenty of water if it's hot and dry. How about two or three jalapenos in the flower bed? The red fruit makes a very attractive plant and the capaicin in your salad gives it bite and spice and strongly anti inflammatory properties for any inflamed muscles and joints that are troubling you. Just type "chili" into that search engine at C-H to find out more about the anti inflammatory effect of chili, and how to use it in your food.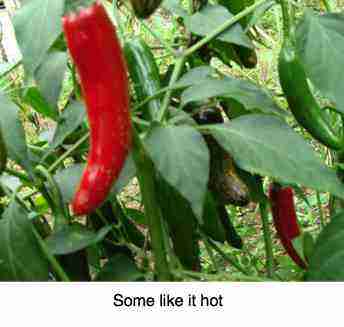 For inflammation, whether in the blood vessels or in your back or shoulder, think of the powerful triumvirate of exercise, mobilisation or manipulation, and nutrition.

The latter means moving away from too many polyunsaturates in your diet, increasing your omega-3 foods and, yes, a move back to butter.



---
"The pendulum swung furiously to the left, because it had been drawn too far to the right."
Thomas Babington Macaulay
---
That applies equally in politics, economics and health. The pendulum obviously swung too far to the margarine and polyunsaturated left; are we now going to see a swing back to the animal fats right?
My recommendation is to avoid margarine totally, but balance your butter with plenty of fruits and salads.
Okay, I'll admit to being a health nut! Is dat helemaal gek? Homemade low GI bread, butter, raw honey and cheese; mixed salads from the garden and our ever popular homemade authentic hummus recipe. This is not an atypical lunch in our household. Often there might be some fatty pilchards added and in season half an avocado. Olives too.
---
Augustus in Nederland
Ik ga august voor de heer Potgieter in Dordrecht invallen.


Till next month, then... yours in better health.

Barrie Lewis DC and Bernard Preston DC!

PS. Feel free to forward this to family and friends, your chiropractor and even your medical doctor! You can support this site by purchasing one of Bernard Preston's chiropractic books. Dirt cheap on you Kindle or smartphone.