Recipe for tabouli tabouleh

This recipe for tabouli, also spelt tabouleh, is slow-food-made-fast at its best. The dish is made from parsley, tomatoes and spring onions. No kidding, you can throw this salad dish together in ten minutes.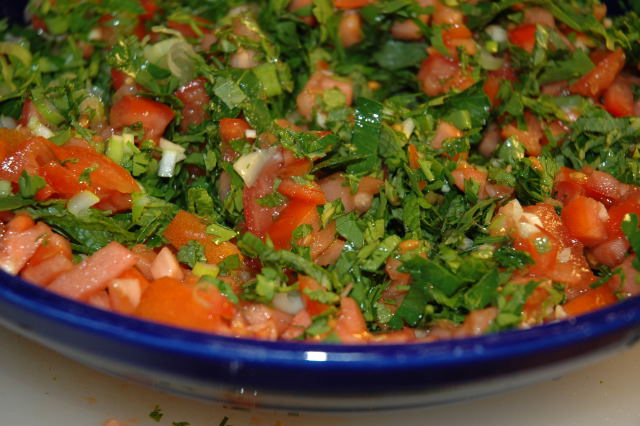 Recipe for tabouli tabouleh
These ingredients are enough for four very lucky people, if it's a side dish.
Two very ripe tomatoes, choose nice sweet ones. Pay a bit extra and use quality tomatoes.
Two spring onions, shallots, green onions or whatever you like to call them.
A very large handful of fresh parsley. Do you grow your own? So easy, fresh from the garden really makes a salad. I like a few sprigs of Mint too. Parsley benefits ...

A freshly squeezed lemon, please not out of a bottle squeezed 6 months ago! Freshly squeezed.  Growing lemon trees ...

A large handful of bulghur wheat, or just freshly chopped bread crumbs.
Olive oil.
Don't believe me that you can make a tabouli salad in ten minutes? Just watch.

   

Minute 1

To start your recipe for Tabouli Tabouleh pour a handful of bulghur wheat (or bread crumbs) into a small bowl, and cover with boiling water. Allow to soak.
PS. Make your own bulghar if you want, I've done it, but it's quite a lot of PT for no nutritional benefit to my mind. Tabbouleh Bulgar wheat ... and you need a wheat grinder.

Minute 2-6
Wash your tomatoes, spring onions and parsley thoroughly. Chop. In particular, I like the parsley finely chopped, and without the stalks, but that's just me. Fussy! Pull out any slugs or snails you may find in the parsley. Smarter than humans, they know what's good for them; they love parsley, and don't just use it for a garnish!
Minute 7
Squeeze the lemon and add immediately to the tomato mix. I include the lemon pulp (why?), but careful to get the pips out.



Minutes 8-9
Now to finish your recipe for tabouli tabouleh throw together the tomatoes, spring onions, parsley, bulghur, lemon juice, and salt. Mix thoroughly. If you want to make it pretty-pretty, spread it on a bed of lettuce. Or, onto a little bowl made from an iceberg lettuce leaf.


Minute 10
Dribble a generous amount of olive oil over your tabouleh recipe. Never seed oils like sunflower or corn oil. Why? Foods to reduce inflammation ...

See? Ten minutes and you're done! If you like add chopped pieces of chicken, even Feta cheese or TOFU (What's that?), ( Tofu Nutrition ) and of course Olives to your recipe for Tabouli Tabouleh. We enjoy eating it with bread, smeered with a generous layer of tahini. There's lots of juice, so it's a bit messy, but never mind. Food to satisfy the tastebuds of a king.
I don't specify quantities, because really it doesn't matter. A bit more of this, a bit less of that, who cares.
Olive oil benefits

The healthiest people on the planet live around the Mediterranean sea. Amongst other things, it's the olive and olive oil benefits that they enjoy.
Soured milk products like yoghurt, unsweetened, of course, contribute too, and perhaps also the midday siesta. Do you take a ten minute power nap after lunch? You should.
If you like us, buy large tins of olives, try your hand at pickling olives. It's dead easy...


Lemon pulp, and limes
I alluded above to include the pulp of your lemon. Why? There is so much extra nutrition in that pulp as you can see here at this orange juice page. OJ is junk food! Orange juice facts ... applies to lemons too, obviously.
Better still try making your recipe for tabouli tabouleh with limes; it's always good to experiment with different herbs and spices and why not the citrus too?
Chiropractic
Why a page on recipe for tabouli tabouleh on a chiropractic help site, you may be thinking? It's simple really; inflammation in the body inhibits the body's response to our adjustments. All the phytosterols in the olive oil, lemon juice, parsley and mint reduce the temperature in your joints and muscles.
And the tomato gives the prostate protection against the most nasty of afflictions that chiropractors always have to keep in mind; metastases to the bones of the pelvis certainly do occur and can mimic regular low back pain.

What are phytosterols?
Phytosterols are compounds found the cell walls of plants. They are essential in the human body in the prevention of cancer, raised cholesterol and prostate problem, and probably 10 million other conditions.
If you refuse to eat salads and fruit, then you will be deficient in phytosterols. Ever wonder why there's an epidemic of heart disease, cancer and autoimmune diseases in the last fifty years?

The Western diet has a serious phytosterol deficiency, one of the foremost reasons for our declining health. What are phytosterols is a subject we should all be interested if we want to live long in the land.
Useful links

Chiropractic Help homepage

›
Lower back pain
› Recipe for tabouli tabouleh
Did you find this page useful? Then perhaps forward it to a suffering friend. Better still, Tweet or Face Book it.